Fall Child Safety for Edmonton Homes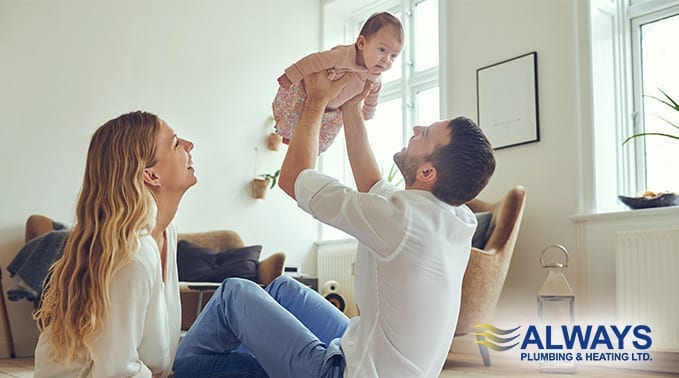 Edmonton homes preparing for the transitional weather season have a long list of maintenance concerns. Always Plumbing & Heating has already covered fall heater, sump pump and DIY home maintenance solutions. Ensuring that your HVAC, plumbing and electrical systems are ready for the harsh winter is part of being a conscientious homeowner. Sleet, snow and freezing temperatures can wreak havoc on homes and businesses; damaging and even destroying pipes and HVAC systems not properly secured. In addition to those maintenance issues, households with young children will also want to add some safety measures to their fall to-do list. Our home service experts have compiled a list of common issues that will help keep your children (and household) safe throughout the winter.
Secure Floor Air Vents
Metal HVAC registers that are located on the floor can sometimes be a safety hazard for small children. They can cut or trip themselves on the grates, which are positioned in open areas for maximum air flow. Small children also like to throw toys and other things down vent if it can be easily opened. Consider replacing your metal air vents with plastic designs that can be screwed into the floor that are not as sharp. You can also find designs that come with screens so that bugs can't come through the grilles (and children can't force objects inside).
AC Window Unit Safety
If you have window units in your home, make sure that they are secure and not easily accessible to your children. Keep furniture that might allow kids access away from the unit (this includes sofas, desks and chairs they might climb on). If your window unit is installed in a first floor window, childproof any sharp corners to keep kids from hurting themselves.
Secure the Outdoor Unit
If you have a central air system, the outdoor component of your air conditioning is called the condenser. This unit houses the compressor and fans and the size and shape can be very attractive to children. The sharp edges and connected cables can be very dangerous, so keeping kids away from it is important. Consider securing it with a small fence or shrubs to ensure it is not easily accessible to children. Keep in mind that a condenser needs at least three feet of space around the perimeter.
Keep Thermostat Remotes out of Reach
Children should not have access to the central air thermostat. Unfortunately, technology has made it easier for anyone in the household to get their hands on a remote. Try to keep the remote in a place not easily accessible – and lock them out of smart phone and computer apps that offer digital remote control.
Allergies
If your kids suffer from indoor allergies that seem to coincide with running your central air system, you might need to clean the air filter. When the filter gets dirty, it can no longer clean the air of contaminants – it will also keep your system from running efficiently.
Water Temperature
Be mindful of the water temperature when giving children a bath – or a washing of any kind. In most Canadian homes, the water heater is set at 60 C, which can cause third-degree burns in most adults. To prevent scalding, there have been some injury prevention advocates that have suggested lowering the temperature to 49 C. However, the lower temperature increases the risk of bacteria contamination. The best route to ensure the safety of your kids and household is to keep the temperature at 60 C and take basic precautions suggested by the Canada Safety Council:
Never leave a child alone while filling a tub with water.
Always check the tub temperature before placing a child in the tub.
Turn on the cold tap first and then slowly add hot water until the temperature is at a comfortable level.
Teach your kids to always turn on the cold water first – and turn off the hot water first.
Supervision
Never leave a young child alone in the bathroom. A child can drown in less than 6 centimeters of water, which makes the bathroom a potentially dangerous area for children. If your child is a toddler and just learning to walk, consider installing toilet lid locks to keep them from getting into the commode water.
House Education
A great way to keep your kids safe at home is to educate them on the various systems that are essential to everyday life. Show them all the components to your HVAC and explain how it works. Take them to some of the exposed plumbing throughout the house and explain how the water is heated and distributed. A little knowledge can help keep inquisitive minds away from common household dangers.
Keeping your kids safe during the fall and winter should be a high priority when working on home maintenance endeavors. If you need professional help with any of the tips provided in this blog, contact us today. Our experts can assist with any HVAC or plumbing-related service. Call 780-489-8118 (Edmonton) or 587-601-1253 (Ft. McMurray) to schedule an appointment.
Related Blogs:
Should I Upgrade my Thermostat?
Contact Us