Lose the Electric Fan. Get an Air Conditioner
A/C stands for Air Conditioner, but it also stands for Always Cool! Life is too short to be uncomfortable in your own home. With an air conditioner from Always Plumbing & Heating, you will be comfortable year round, no matter how hot the summer days get. Installing an air conditioner is not a job for the weekend warrior. Our technicians are experts for a reason, and that's because they have the industry knowledge needed to keep you comfortable all year round, no matter what mother nature throws your way.
You may be considering an air conditioner for the first time, or replacing your existing unit if you have any of the following issues:
Limited air flow or lack of cool air
Leaking or moisture around the AC
Strange sounds when the AC is running
Soaring energy bills
Frequent repairs on an aging unit
Poor indoor air quality
Using open windows and electric fans to cool down
…and you're still uncomfortable on hot days
Unsure of which air conditioning unit to choose? Our home comfort experts will provide honest recommendations to help you choose the model most suitable to your home and your budget. Once we install your air conditioner, we will walk you through how the equipment works and teach you how to use your new thermostat so you can find the ideal temperature setting for your family. And while we are there, we will make sure your furnace, humidifier, and indoor air quality equipment are up to par as well!
Air Conditioning System Tune-Up
On a hot, Edmonton summer's day when you've been outside in the sun for an extended amount of time, the last thing you want is to enter your home, expecting it to be chilled, and feel nothing but more heat.
Always Plumbing & Heating can help you avoid this unpleasant scenario by making sure your air conditioning unit is in optimal working condition. The best time to check your AC unit is at the beginning of spring, and our HVAC technicians will be standing by to service your air conditioning unit:
Check for potential problems
Perform repairs as needed
Perform preventative maintenance
Install new AC units or heating systems
HVAC Air Conditioning Repair
The certified Always Plumbing & Heating HVAC technicians have been providing top quality reliable air conditioning services for Edmonton and surrounding residences since 1998. If you find your AC unit is not working, even at 2 am, you can always count on us. Available 24/7, you can call us to book emergency service or schedule a service call without any additional after hour fees.
With Always Plumbing & Heating, you get an estimate upfront before any work begins. If the cost to repair is too high, we will suggest replacing it. We'll always give you an honest estimate, and will never advise you to swap out your old unit if it still has a few good years left. The best part is that we have a wide variety of energy-efficient models in stock, and will work with you, your budget, and your home's unique specs, to choose the right one.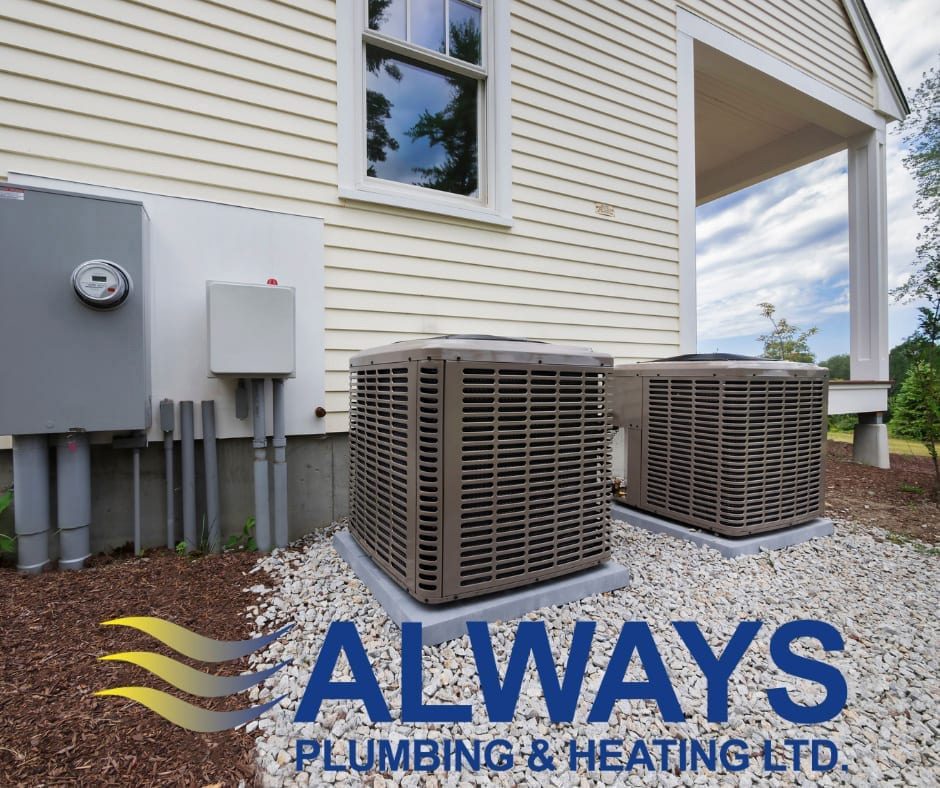 Air Conditioning System Brands We Carry
We carry a large selection of AC units for you to choose from 13 Seasonal Energy Efficiency Ratio (SEER) units all the way to 21 SEER. The higher the SEER number, the more efficient the unit is. Knowing which unit is right for your home and pocketbook can be tough! You can trust our HVAC experts to help you determine which is the best unit for your home and cooling needs that don't break the bank. PLUS, we offer several methods of payment and financing options to best fit your situation and schedule.
AC Brands

Brand
Model
Seasonal Energy Efficiency Ratio (SEER)

Brand

Goodman

Model

Standard Single Stage

Seasonal Energy Efficiency Ratio (SEER)

13 SEER

Brand

Goodman

Model

Standard Single Stage

Seasonal Energy Efficiency Ratio (SEER)

14 SEER

Brand

Amana

Model

Standard Single Stage

Seasonal Energy Efficiency Ratio (SEER)

13 SEER

Brand

Amana

Model

Standard Single Stage

Seasonal Energy Efficiency Ratio (SEER)

14 SEER

Brand

Carrier

Model

Standard Single Stage

Seasonal Energy Efficiency Ratio (SEER)

13 SEER

Brand

Carrier

Model

Standard Single Stage

Seasonal Energy Efficiency Ratio (SEER)

14.5 - 16 SEER

Brand

Goodman

Model

Deluxe Single Stage

Seasonal Energy Efficiency Ratio (SEER)

16 SEER

Brand

Amana

Model

Deluxe Single Stage

Seasonal Energy Efficiency Ratio (SEER)

16 SEER

Brand

Carrier

Model

Deluxe Performance Series

Seasonal Energy Efficiency Ratio (SEER)

16 SEER

Brand

Carrier

Model

Deluxe Performance Series / Horizontal Discharge

Seasonal Energy Efficiency Ratio (SEER)

14 SEER

Brand

Goodman

Model

Optimum Two Stage

Seasonal Energy Efficiency Ratio (SEER)

16 SEER

Brand

Amana

Model

Optimum Two Stage

Seasonal Energy Efficiency Ratio (SEER)

16 SEER

Brand

Carrier

Model

Premier Infinity Series

Seasonal Energy Efficiency Ratio (SEER)

16 SEER

Brand

Carrier

Model

Premier Infinity Series Two Stage

Seasonal Energy Efficiency Ratio (SEER)

17 SEER

Brand

Goodman

Model

Optimum Two Stage

Seasonal Energy Efficiency Ratio (SEER)

18 SEER

Brand

Amana

Model

Optimum Two Stage

Seasonal Energy Efficiency Ratio (SEER)

19 SEER

Brand

Carrier

Model

Optimum Infinity Series Five Stage Rotary Inverter

Seasonal Energy Efficiency Ratio (SEER)

19 SEER

Brand

Carrier

Model

Optimum Infinity Series Two Stage

Seasonal Energy Efficiency Ratio (SEER)

21 SEER