Warning: Tentative Furnace Shortage this Winter. Repair or Replace your Equipment Now.
Edmonton Air Conditioning Services And Installation
Lose the Electric Fan. Get an Air Conditioner
A/C stands for Air Conditioner, but it also stands for Always Cool! Life is too short to be uncomfortable in your own home. With an air conditioner from Always Plumbing & Heating, you will be comfortable year round, no matter how hot the summer days get. Installing an air conditioner is not a job for the weekend warrior. Our technicians are experts for a reason, and that's because they have the industry knowledge needed to keep you comfortable all year round, no matter what mother nature throws your way.
You may be considering an air conditioner for the first time, or replacing your existing unit if you have any of the following issues:
Limited air flow or lack of cool air
Leaking or moisture around the AC
Strange sounds when the AC is running
Soaring energy bills
Frequent repairs on an aging unit
Poor indoor air quality
Using open windows and electric fans to cool down
…and you're still uncomfortable on hot days
Air Conditioning System Tune-Up
On a hot, Edmonton summer's day when you've been outside in the sun for an extended amount of time, the last thing you want is to enter your home, expecting it to be chilled, and feel nothing but more heat.
Always Plumbing & Heating can help you avoid this unpleasant scenario by making sure your air conditioning unit is in optimal working condition. The best time to check your AC unit is at the beginning of spring, and our HVAC technicians will be standing by to service your air conditioning unit:
Check for potential problems
Perform repairs as needed
Perform preventative maintenance
Install new AC units or heating systems
Air Conditioner Repair
Benefits of Always Plumbing AC repair – Your Air Conditioner is a complex piece of equipment. When it is working well, it can fill your home with cool, comfortable air. When it malfunctions, however, the challenge is to find which part of the intricate equipment is the root cause of the problem. Leaving a unit in disrepair is likely to cause more problems down the road, and increased energy consumption.
Signs your AC needs repairs – Are you experiencing any of these issues with your air conditioner?
Insufficient airflow

Warm air

Frequent cycles

High humidity

Water collecting around the A/C

Bad odour when the system is running

Unusual noises
If you are experiencing any of these, you are best to call a technician to come to tackle the repairs for you right away. Leaving a problem undiagnosed can often set off a chain of events that ultimately lead to the air conditioner failing completely. You can trust the experts at Always Plumbing & Heating to conduct a thorough inspection, testing and diagnosis of your air conditioner issues, and provide you with the best repair options to keep you and your family cool all summer long.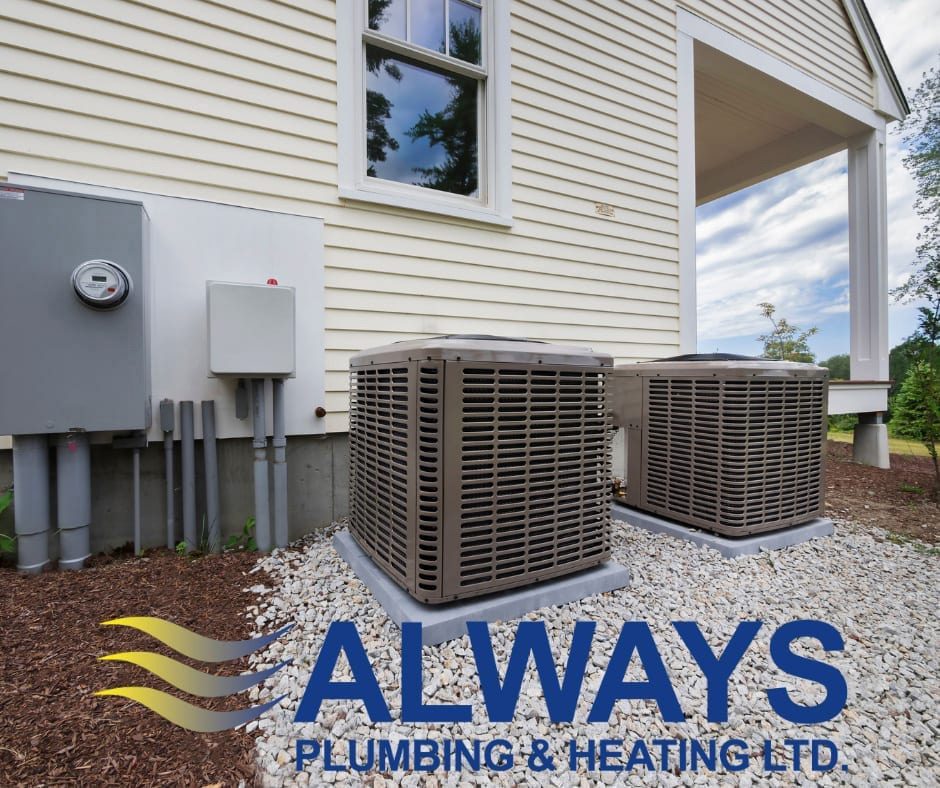 Air Conditioner Replacement
Advantages of replacing your air conditioner with a new model – When you replace your old A/C with a newer unit, not only will you experience cool, indoor home comfort immediately, but you will also experience energy consumption savings that will keep you smiling for years to come. Older A/C units were not always made with energy efficiency in mind. Newer air conditioners are made under strict energy usage guidelines, with the idea of reducing your carbon imprint and saving you on energy costs.
Advantages of getting your AC replaced by Always Plumbing – When you purchase your air conditioner from Always Plumbing & Heating, you will not only get the best equipment warranties, but all of our equipment comes with our Always Iron-Clad guarantee that is the best in the industry. We guarantee the equipment, parts, and installation will be done professionally and in accordance with building codes and the manufacturers' guidelines and that you are 100% satisfied. If it is time to replace your air conditioner, we will provide you with all the information you need to choose the system that is most suitable for your needs and the size of your home. With over 20 years of making customers happy in Edmonton, you can be assured we will be there for you not just for the replacement, but also for your annual maintenance to keep your system in tip-top shape!
New Air Conditioner Installation
Unsure of which air conditioning unit to choose? Our home comfort experts will provide honest recommendations to help you choose the model most suitable to your home and your budget. Once we install your air conditioner, we will walk you through how the equipment works and teach you how to use your new thermostat so you can find the ideal temperature setting for your family. And while we are there, we will make sure your furnace, humidifier, and indoor air quality equipment are up to par as well!
Benefits of getting an AC from Always Plumbing – At Always Plumbing & Heating, we understand that choosing the right air conditioner for your home can be a daunting task, but once you have one in your home you will wonder how you ever went without!  You can trust our HVAC experts to help you determine which is the appropriately sized unit for your home based on a number of measurements and calculations. An accurate air conditioner quote can only effectively be done with an in-home consultation. Be leery of companies that offer A/C quotes over the phone or internet without seeing your home. We find that customers that fall into this trap with the promise of an extremely low-priced unit, often end up paying much higher than they were initially advised. In order to receive a straightforward and accurate estimate, a qualified home comfort technician will need to measure the square footage of your home, inspect your homes'  insulation, review the number and type of windows in your home, inspect your ventilation ducts, and more. Once this process is complete, our technicians will lay out suitable options for you to select from mid-range to the highest-efficiency models available, with straightforward pricing that is guaranteed to stay the same once you sign off on it.
At Always Plumbing & Heating, we have competitive pricing with over 20 years of experience that you can count on. Our equipment installations are backed by the Always Iron-Clad Guarantee, in addition to the manufacturer warranties. We will guarantee the equipment, parts, and installation will be done professionally and in accordance with building codes and the manufacturers' guidelines, with our promise to you that you will be 100% satisfied! We also ensure that we offer creative ways for A/C to be affordable to almost everyone. We accept several methods of payment and flexible financing options to best fit your situation and budget.
Thinking this is the year to get an air conditioner in your home? Call today to sign up for a free, no-obligation estimate from the Experts at Always!
Air Conditioning Brands We Carry
At Always Plumbing & Heating, we carry a large selection of AC units for you to choose from 13 Seasonal Energy Efficiency Ratio (SEER) units all the way to 21 SEER. The higher the SEER number, the more efficient the unit is. Knowing which unit is right for your home and pocketbook can be tough! Our certified home comfort technicians will discuss with you the right size and efficiency for your home, and they will provide you with a comparative estimate of suitable equipment that you can select from. As a trusted source for air conditioner installation in Edmonton and surrounding areas, we will provide you with the exact price of the job before any work begins.
Check out these state-of-the-art systems that are guaranteed to keep you and your family cool…Always!

AC Brands

Brand
Model
Seasonal Energy Efficiency Ratio (SEER)

Brand

Goodman

Model

Standard Single StageStandard Single Stage

Seasonal Energy Efficiency Ratio (SEER)

13 SEER

Brand

Goodman

Model

Standard Single Stage

Seasonal Energy Efficiency Ratio (SEER)

14 SEER

Brand

Amana

Model

Standard Single Stage

Seasonal Energy Efficiency Ratio (SEER)

13 SEER

Brand

Amana

Model

Standard Single Stage

Seasonal Energy Efficiency Ratio (SEER)

14 SEER

Brand

Carrier

Model

Standard Single Stage

Seasonal Energy Efficiency Ratio (SEER)

13 SEER

Brand

Carrier

Model

Standard Single Stage

Seasonal Energy Efficiency Ratio (SEER)

14.5 - 16.5 SEER

Brand

Goodman

Model

Deluxe Single Stage

Seasonal Energy Efficiency Ratio (SEER)

16 SEER

Brand

Amana

Model

Deluxe Single Stage

Seasonal Energy Efficiency Ratio (SEER)

16 SEER

Brand

Carrier

Model

Deluxe Performance Series / Horizontal Discharge

Seasonal Energy Efficiency Ratio (SEER)

16 SEER

Brand

Carrier

Model

Deluxe Performance Series / Horizontal Discharge

Seasonal Energy Efficiency Ratio (SEER)

14 SEER

Brand

Goodman

Model

Optimum Two Stage

Seasonal Energy Efficiency Ratio (SEER)

16 SEER

Brand

Amana

Model

Optimum Two Stage

Seasonal Energy Efficiency Ratio (SEER)

16 SEER

Brand

Carrier

Model

Premier Infinity Series

Seasonal Energy Efficiency Ratio (SEER)

16 SEER

Brand

Carrier

Model

Premier Infinity Series Two Stage

Seasonal Energy Efficiency Ratio (SEER)

17 SEER

Brand

Goodman

Model

Optimum Two Stage

Seasonal Energy Efficiency Ratio (SEER)

18 SEER

Brand

Amana

Model

Optimum Two Stage

Seasonal Energy Efficiency Ratio (SEER)

19 SEER

Brand

Carrier

Model

Optimum Infinity Series Five Stage Rotary Inverter

Seasonal Energy Efficiency Ratio (SEER)

19 SEER

Brand

Carrier

Model

Optimum Infinity Series Two Stage

Seasonal Energy Efficiency Ratio (SEER)

21 SEER

Brand

York

Model

YCD LX series

Seasonal Energy Efficiency Ratio (SEER)

13 SEER

Brand

York

Model

YCE LX series

Seasonal Energy Efficiency Ratio (SEER)

14 SEER

Brand

York

Model

YFE LX series

Seasonal Energy Efficiency Ratio (SEER)

14 SEER

Brand

York

Model

YCG LX series

Seasonal Energy Efficiency Ratio (SEER)

17 SEER

Brand

York

Model

YFK LX series

Seasonal Energy Efficiency Ratio (SEER)

17 SEER

Brand

York

Model

YXT Affinity series

Seasonal Energy Efficiency Ratio (SEER)

19 SEER

Brand

York

Model

YXV Affinity series

Seasonal Energy Efficiency Ratio (SEER)

21 SEER

Brand

York

Model

TCHD Affinity series

Seasonal Energy Efficiency Ratio (SEER)

13 SEER

Brand

York

Model

TCHE Affinity series

Seasonal Energy Efficiency Ratio (SEER)

14 SEER