Should I Upgrade My Thermostat?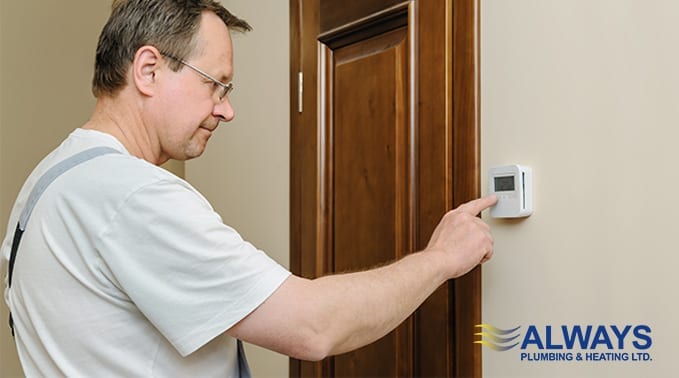 Edmonton Homeowners know how important their HVAC system affects their quality of life. Central air ensures that your home is at a comfortable temperature throughout the year. But few realize that their thermostat might not be managing the system at maximum efficiency. Those who are still using an outmoded manual dial or slide thermostat will want to consider upgrading to a digital model. Push button controls and easy to read digital display allow for more precise control over the temperature settings.
A programmable thermostat is even more efficient, giving homeowners the ability to heat and cool their homes without having to remember to adjust the temperature when they leave. Programmable thermostats can also be accessed by phone, ensuring complete control over the central air system. Are you considering upgrading your current thermostat? Always Plumbing & Heating has compiled several reasons to make the change to a programmable model.
Maximum Energy Savings
A programmable thermostat allows a household to maximize the efficiency of their central air system by scheduling the preferred temperatures around their lifestyle. It maintains the optimum comfort level when the family is home, but gives the air conditioner or heater a break when the house is empty. A programmable thermostat learns the schedule and adjusts the air to meet the needs of the household – without wasting energy by conditioning an empty house. This works throughout the year, maximizing energy use by "remembering" when to turn off (or adjust) the temperature according to need.
Convenience
In addition to getting the maximum amount of efficiency from your central air system, you'll also enjoy the convenience of not having to worry about making adjustments throughout the day. Even with a busy and ever-changing schedule, you can program your thermostat in advance. A summer vacation, evening baseball practice or other changes in the daily or weekly schedule can be reflected in the multiple programming options. Weekday and weekend schedules are easy to facilitate – and even override if something changes. Intuitive designs with user-friendly digital displays make it easy to understand and master.
Remote Access
Many programmable thermostats are Wi-Fi enabled, which allows a homeowner to control the settings from a smart phone, tablet or computer. This means that even when you are away from home, you can make changes to the temperature settings. In the case of Edmonton homes, this is especially important during transitional months when the weather is particularly unpredictable. A sudden cold front or unexpected snowfall in October can make returning home an uncomfortable experience. Having remote access to the thermostat will allow you to heat up your home in time for your family to return. Wi-Fi enabled designs also give you control of your home's temperature settings during vacations or extended time away.
Design Variety
There are a wide variety of programmable thermostats on the market. From simple "set and forget" options to complicated versions that also control humidity levels, you'll find one that best fits your needs. Many new designs can perform system diagnostics on your HVAC, alert you when you need to change the filter and contain energy-tracking capabilities. There are even smart thermostats that can help with airflow and indoor air quality. Before you check out the various design and feature options, make a list of all the essential thermostat needs of your home.
Take control of your HVAC system and upgrade your old thermostat with a new programmable design. Save energy and money while maximizing comfort with a high tech thermostat that can learn your household schedule. Remember that the experts at Always Plumbing & Heating can help you with selection and installment of a new design. Call us at 780-489-8118 (Edmonton) or 587-601-1253 (Fort McMurray) to schedule an appointment today!
Related Blogs:
Energy-Saving Tips for the Summer
Keeping Your HVAC Warranty Valid
To request a service appointment, give us a call at 780-489-8118 or contact us online.
Contact Us