Reasons to Schedule Heater Maintenance in Your Edmonton Home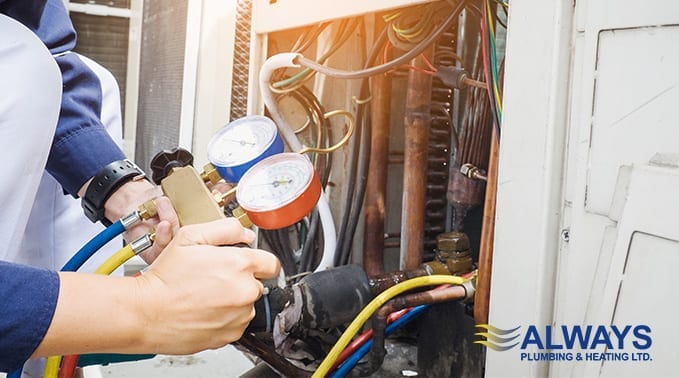 Another Edmonton winter is on the horizon, which means that it's time for maintenance on your heating unit. The NRC (Natural Resources Canada) reports that 63% of the energy used in the average Canadian home is from space heating. This staggering number suggests that many home heating systems are not running at maximum efficiency. If you have a heating unit in your home and use multiple space heaters to keep every room comfortable, you should reassess your heating system.
While there could be several different reasons for inefficiency, including old age or an improperly sized unit, the most common reason is poor maintenance. Do you have an annual maintenance plan for your HVAC system? If you haven't had a tune-up on your heating unit in over a year and need space heaters to keep your family comfortable then you are wasting both energy and money. Every year we remind our Edmonton neighbors about the benefits of annual heater maintenance. Here are the three main reasons why every home owner needs to schedule a yearly fall tune-up:
Improved Energy Efficiency
This reason should be even more compelling to Canadians as the space heater usage in homes is staggering. Annual maintenance on your furnace or boiler will ensure that it runs at maximum efficiency. When the system is dirty or has a part (or parts) that need to be fixed or replaced, the unit has to work harder to produce the amount of heat required for comfort. This means that it is using more energy to do its job effectively. But some units get past the point of even properly heating a home – which often means the homeowner buys space heaters to help boost the warmth. This starts a vicious cycle, which can become very expensive and very wasteful. If your heating unit is properly sized and functioning properly there should not be a need for multiple space heaters.
Lower Utility Bills
When your heating unit is working as well at it can, it won't be a drain on your utility bills. You might not be aware of the amount of energy that your home consumes during a harsh Edmonton winter, but when a spike directly impacts your wallet it is hard to overlook. Are you one of the many Canadian homes with multiple space heaters? Have you considered why? The fee for annual heating maintenance is small compared to the cost of using an inefficient unit and additional heaters.
Avoiding Repairs
No one in Edmonton wants their heating unit to break down in the middle of winter. Regular maintenance can help prevent a breakdown – and time spent without heat. A fall tune-up can help catch minor problems before they are exacerbated by the continuous use in the winter. Repairing or replacing a furnace or boiler can cost thousands of dollars, which is even worse news during the extended holiday season. Avoid repairs altogether with annual scheduled maintenance from a licensed technician. Get your system running at peak condition and free yourself from energy-draining space heaters.
The licensed technicians at Always Plumbing & Heating are experts at heating maintenance. Let them help you keep your system running smoothly so you don't have to resort to additional heating solutions. Save energy, money and keep expensive repairs to a minimum with a comprehensive tune-up for your heating unit. Be proactive and ensure your family's health and comfort this winter with professional heating maintenance from Always Plumbing & Heating.
Related Blogs:
Contact Us