Fall DIY Maintenance for Edmonton Homes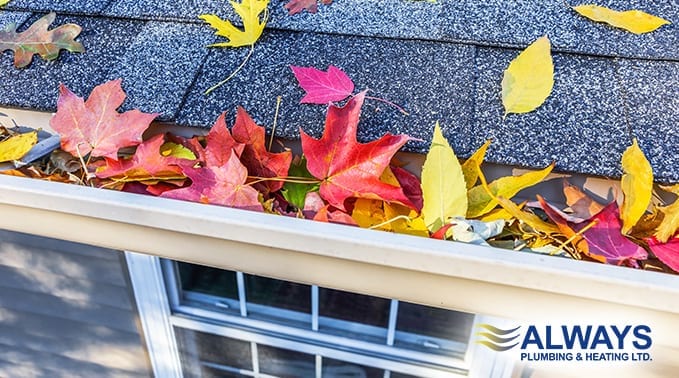 With the new Edmonton school year just a few weeks away, it's time for area households to begin thinking about fall DIY maintenance. While it will be another couple of months before the temperatures dictate turning on the heat, it's always a good practice to get the home ready ahead of the seasonal shift. Ensuring that your home is protected against the frigid winter weather will help avoid structural damage and keep utilities in check. The professionals at Always Plumbing & Heating are experts on fall maintenance and have advised hundreds of Edmonton homeowners on simple, essential procedures they can perform on their own. Follow the checklist below and enjoy a safe and worry-free winter!
Exterior Maintenance:
Clean Gutters
Prepare for the fall rain and make sure that your gutters are free from leaves and debris. Clogged gutters can divert the rain onto the surrounding foundation and cause severe damage. Wear gloves and remove the debris by hand, placing all of it in a trash bag. After you have thoroughly cleaned the gutters, take a hose and run water through it to ensure there is no hidden blockage.
Check Roof for Cracks
Over the summer, weather, trees and rodents can wreak havoc on your roof. A heavy rainstorm or hail can tear shingles – and break tree limbs that can inflict additional damage. Wood shingles can split, ceramic shingles can chip and asphalt, the most common shingle material, can curl and blister. Rodents will sometimes attempt to burrow into homes through the roof, destroying large areas in the process. Climb up on the roof and assess the shingles for any damage that may have occurred over the summer. Repair any damaged shingles/areas that you find; most simple shingle repairs will only require roofing cement and aluminum flashing. If you are experiencing pervasive leaks, a licensed roofer should be contacted.
Repair Cracks in the Exterior
Asses the exterior of your home and check for any cracks that may have manifested over the summer. Repairing cracks, no matter how small, will help to better insulate your home in the winter and keep bugs from infiltrating your home. Be mindful of loose or disintegrating brick, rotted wood, damaged siding and other common problems. Mortar or cement is best for repairing damaged brick areas. Rotted wood will require complete replacement. Caulk is a great fix for small cracks around window frames, exhaust grilles and air intake. It can also help with siding cracks and areas where the siding may have receded from the roof or foundation.
Clean Out A/C Condenser
When you have officially stopped using your air conditioning system, clean out your condenser unit. Leaves, twigs, grass and other debris can build up in both the interior and exterior over the summer. Trim back bushes or trees that are too close to the unit (there should at least three feet of space around the condenser at all times). Before you cover it for the winter, make sure that it is free from the clutter that can compromise both the efficiency and longevity. Remember to switch off the power (or shut down the circuit) before cleaning the inside of the unit.
Interior Maintenance:
Assess Attic Insulation
A good way to keep heating costs in check over the winter is to make sure that there is ample insulation in the attic. In order to maximize the heat, there should be at least 12 inches (30.48 cm). An easy way to determine how much insulation exists is by comparing the level to the surrounding joists. If the insulation is below or level with the joists, then more insulation in needed.
Read This Before You Insulate Your Attic
Replace the Furnace Filter
To ensure that your furnace runs efficiently through our long winter, make sure that the filter is free from dust and debris. A furnace with a dirty filter will have to work harder; using more gas and electricity and ultimately be less efficient. A furnace filter should be changed out every three months, though one that is in constant use should be checked every month. Filters also help filter out airborne allergens that can affect the household, so ensuring they are clean will keep both your home and family healthy.
Replace Weather Stripping
Another good way to ensure that the heat doesn't escape your home is to replace old or worn weather stripping around doors and windows. Replacing the weather stripping can potentially be an extended home improvement project, depending on how many areas are involved. Windows and doors have the potential to lose hundreds of dollars of heat (or cold) a year, so it is important to have stripping that will protect the seams of these areas.
How to Replace Weather Stripping
Insulate Exposed Plumbing
If you have experienced at least one harsh winter in your Edmonton home, chances are you have already insulated your exposed indoor plumbing. This is extremely important in the dead of winter when the outside temperatures go below freezing. A frozen pipe can crack or burst; not just damaging the plumbing system, but the home itself.
Early fall DIY maintenance is key in keeping your home safe from all the pitfalls of a traditional Edmonton winter. Take a weekend to go through this checklist and make the repairs and improvements necessary for maximum security and energy-efficiency. Remember that the experts at Always Plumbing & Heating can help if you need professional heating maintenance or any plumbing or HVAC related needs throughout the fall. Call us at 780-489-8118 (Edmonton) or 587-601-1253 (Fort McMurray) to schedule an appointment today!
Related Blogs:
Contact Us