Edmonton's Trusted Bathroom Plumbers
Always Plumbing offers more services in your bathroom than just unclogging and snaking your pipes. Our qualified bathroom plumbers maintain, renovate and install new fixtures in bathrooms throughout Edmonton, St Albert, Sherwood Park, Spruce Grove & Stony Plain. We offer services in Rural Alberta too, please contact us to confirm service is available for your rural area. Our repairs and new installations save you money by cutting down on water waste and water consumption in all your fixtures. No matter the size of the job, we are ready to help and bring our years of experience. With our knowledge, we offer you quick and efficient plumbing services and advice with new bathroom designs. If you are having trouble with your fixtures in your bathroom, you can call us 24/7 at 780-489-8118,  schedule a service appointment, or reach us via our chat window.
Each year with work with prominent renovation companies to complete at least 50 major bathroom renovations per year!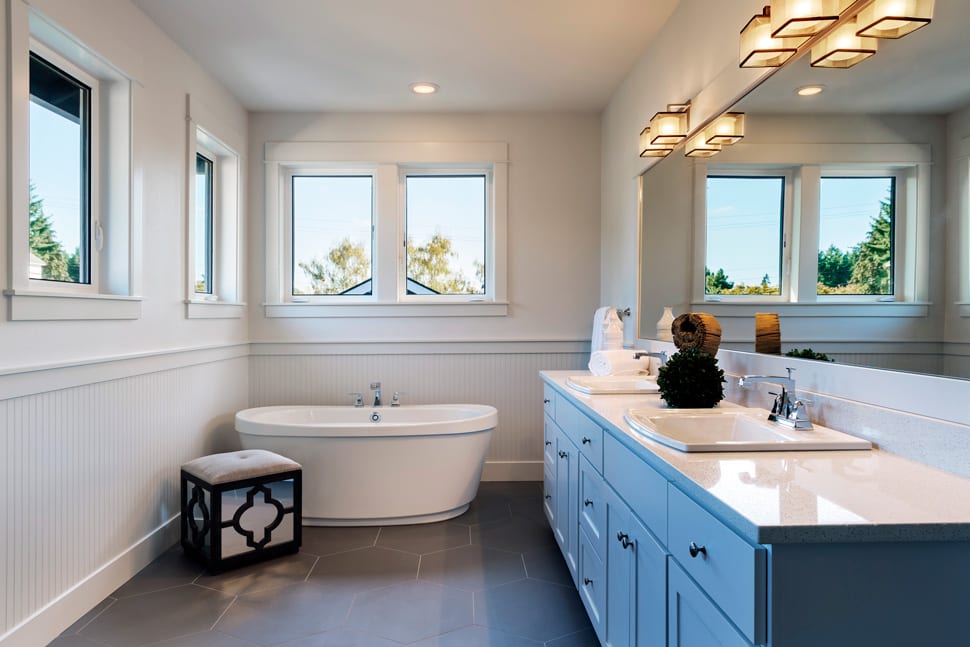 Eco-Friendly Bathroom Plumbing Renovations & Repairs
If you are ready to go green with a new bathroom renovation or want to fix up your old units to operate more efficiently, Always Plumbing is here to help. When your existing fixtures are leaking water, you might be increasing your water consumption without even realizing it. Our repairs seal up your toilets and sinks to make them work as efficiently as possible. For new renovations, we sell and install the top brands that offer high energy savings and low water consumption. Below we have some of our recommended toilet, sink, shower, tub, faucet and showerhead brands. These are just some of the many options we carry for eco-friendly bathroom renovations and repairs.
Toilet Repair & Toilet Installation
At the core of all of our environmentally-friendly toilets is low water consumption. Toilets that are around twenty years old can be used over twice as much water as a newer toilet. This not only affects the environment but also your water bill. We offer these top brands – and several others – to suit your colour, style, and budget:
Toto
American Standard
Kohler
Western Pottery
Mansfield
Sinks, Showers, and Tubs
Our sink, shower and tub options help you maximize your bathroom space, even in a small home. Even your tiny bathroom can feel like a spacious spa with the right fixtures and layout. Our plumbers can help you figure out the best way to give your bathroom a makeover that will add to
your enjoyment of your home and to its resale value in the future. We also repair older sinks, showers, and tubs to give you back your relaxing retreat. We sell and install the following brands of sinks, showers, and tubs:
Faucets and Showerheads
Similar to our toilet options, the faucet, and showerheads we carry focus on low water consumption. We sell and install completely new eco-friendly options, but also service existing fixtures to get them working properly. The new eco-friendly fixtures will offer you high efficiency without sacrificing water pressure. Our eco-friendly faucets and showerheads also consume less energy from a water heater.
Brands We Carry
Moen
Delta®
Kohler
Gerber
GROHE
Hansgrohe
Riobel
Pfister®