Natural Disaster Prep: Flooding in Edmonton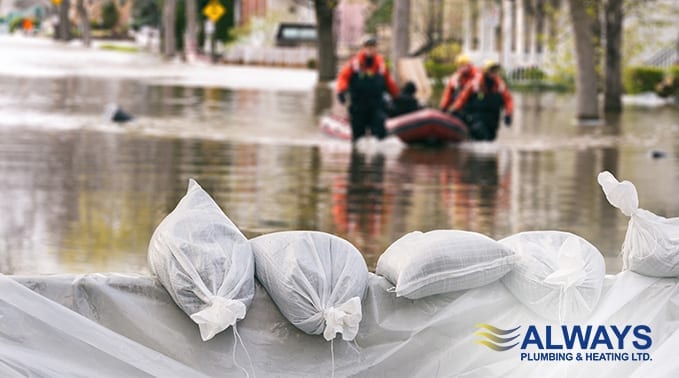 With the recent hurricane activity in the Atlantic causing unprecedented destruction, it's a good time to review procedures for potential flooding. While Edmonton generally doesn't experience flooding in the fall, a flood can happen at any time – and without warning. Just last month, a severe thunderstorm caused localized flooding throughout the area. Fortunately, the damage was minimal, with a building fire (caused by lightening) and power outages the only major problems. But random storms like that are increasing, so having plans in place for flooding emergencies is vital. The staff at Always Plumbing & Heating have put together a list of notes for keeping your household safe in the event of a major flood.
Flood Preparation
A flood watch means that residents need to keep aware of the situation. A flood warning means that flooding is imminent and you should take action immediately.
If you are at home during a flood warning, keep your smart device, television or radio set to a weather service with the latest news.
Research the safest places for you to seek shelter that are close to your residence. In the event of an emergency, you might have to travel on foot to higher ground.
Make yourself familiar with area flood zones and make an escape plan (one for leaving the house and one for evacuating the area) accordingly.
Secure outdoor furniture by bringing it inside or placing it in a storage area to protect it from flood damage.
Place all the important items in your home at the highest point possible.
Disconnect all your electrical appliances/electronics.
Turn off your gas and electricity at the main source to prevent potential possible fires or explosions.
Never walk or drive through flood waters. Just 6 inches of moving water can knock someone down – and just 2 feet of water can move a car. Flood waters can also contain unseen objects that can harm you including electrical wires.
Flood Safety
If a flood warning has been issued, head for higher ground immediately. Make sure to keep your smart phone or radio with you.
If you are fleeing to a shelter or building that is safe from harm, make sure that the entire household is aware of the location.
Again, stay away from waters. If you are driving and come across a flooded road, turn around and drive in the other direction.
If your car is caught in flood water while in transit, get out of the car and seek higher ground.
If you are evacuating at night, make sure that you have flashlights or reliable light sources.
Post Flood Safety
Wait until the area has been declared safe before you return home.
If your home was directly affected by the flood, check the perimeter before back inside. Look for any structural or foundation damage, dangling electrical wires, gas leaks or other potentially hazardous problems.
Be careful entering your home for the first time. The roof or walls may have collapsed or received damage that could compromise their integrity.
Be mindful that standing water might carry an electrical charge or hide objects that might be hazardous.
Keep an eye out for animals that might be inside your home after seeking shelter from the storm.
When cleaning up your home after a flood, always wear protective clothing including rubber gloves.
Always Plumbing & Heating hopes that our Edmonton neighbors never experience the damaging effects of flooding. Remember that we can help in the event of a remodeling project due to flood damage. We can assist with any number of plumbing or HVAC concerns brought on by water damage. Call us at 780-489-8118 (Edmonton) or 587-601-1253 (Fort McMurray) to schedule an appointment today!
Related Blogs:
---
For more information on plumbing solutions or to request a service appointment, give us a call at 780-489-8118 or contact us online.
Contact Us