Green Plumbing Tips for Edmonton Homes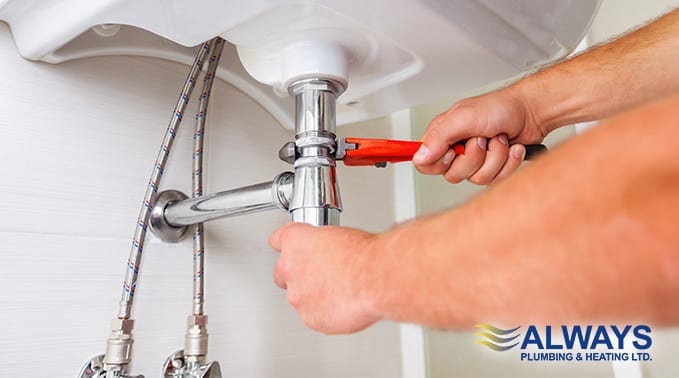 While Edmonton homeowners prepare for the long winter with maintenance procedures that will ensure both safety and comfort, there is another concern that many will want to add to the list: green plumbing. Making environmentally sound decisions regarding your plumbing will help keep your system running smoothly and cut down on utility bills. Our harsh winters can be hard on our pipes. The combination of freezing temperatures and reliance on hot water can create a variety of problems. Additionally, cleaning and maintaining your system (including sinks and fixtures) can be potentially harmful to your household and the environment. Going with a greener plumbing agenda this fall makes sense for a variety of reasons – and Always Plumbing & Heating wants to make the effort easy. We've compiled a list of tips from our plumbing professionals to help keep your home more efficient and greener throughout another Edmonton winter.
Insulate Plumbing
Exposed water pipes should be insulated throughout the house. This will not only keep them from freezing during the winter, but it will also help lower heating costs. Simple foam insulation is estimated to cut heat loss by up to 80 percent while also keeping cold water pipes from seating (and potentially rusting and cracking). Pre-cut polyethylene or neoprene foam tubes are easy to fit around pipes and can help raise water about 39.2 F degrees, which will allow for a lower, more energy-efficient water heater setting.
Green Drain Cleaning
With the weather getting colder and extended fall and winter holidays, more people will be spending time indoors. More traffic inside means that there will be more drain clogs in sinks, tubs and showers. Instead of using toxic and abrasive cleaners, try creating your own cleaner with common household ingredients. A simple combination of half a cup of baking powder and one cup of vinegar is an effective (and non-toxic) way to get rid of clogs.
Water Heater Maintenance
One of the best decisions you can make during fall maintenance is to have your water heater maintained by a professional. Edmonton households count on their hot water during the extreme winter. Having a tune-up performed by a professional will help ensure it runs efficiently throughout the year. Whether you have a tank or tankless design, schedule to have it maintained for an easy transition into the coldest season.
Check for Faucet Leaks
Many homeowners tend to live with slow leaks in their faucets and plumbing fixtures until the problem becomes unmanageable. Do you have a fixture with a slow leak? Leaks are not expressly slow drips from a faucet, they can come from handles and other components that are worn, loose or cracked. Go through your home and assess all your faucets and plumbing fixtures. It you have slow leaks, you are wasting water and losing money. Make sure that they are fixed before they become larger repair issues.
Shower Habits
During the winter, try to space out showers by at least 10 minutes to give your water heater time to reheat its contents without overworking it. Also, by installing a low flow shower head and cutting the shower time to five minutes (or less) you can significantly cut water usage and CO2 emissions. Taking a shorter shower can help people who tend to suffer from itchy, dry skin in the winter.
Find Energy Rebates in Your Province
Fall is the best time to review your plumbing system – and introduce more eco-friendly maintenance procedures. Changing the way you care for and use your plumbing will help keep it running efficiently for years to come. If you need assistance in making your plumbing a more "green" and energy-efficient system, contact us today. We can help with pipe insulation, water heater maintenance and even new fixture installation (as well as leak repair). Call 780-489-8118 (Edmonton) or 587-601-1253 (Ft. McMurray) to schedule an appointment.
Related Blogs:
Reasons to Schedule Heater Maintenance
---
For more information on plumbing solutions or to request a service appointment, give us a call at 780-489-8118 or contact us online.
Contact Us