Boosting the Heat in your Holiday Home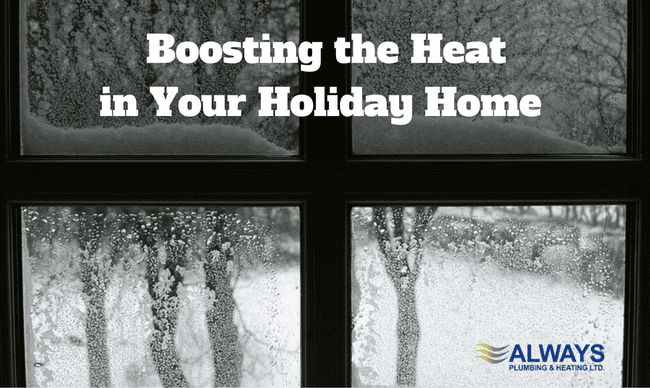 Christmas and Boxing Day are just days away, which means that friends and family will soon be convening for extended visits. With more people in the home than usual, you'll be using more energy to keep everyone comfortable and entertained. The HVAC system in your Edmonton home will be working overtime to ensure everyone stays warm (especially with the forecast predicting zero degree lows). Always Plumbing & Heating wants to help you keep your utility costs down throughout the extended holiday. We've compiled a few tips to help balance the comfort of your holiday household with sensible energy use. While some of these precautions have already been mentioned in previous winter weather blogs, all are worth touching upon again.
Proactively boosting your central air before your holiday events will ensure a comfy, cozy vacation that won't create a high energy bill.
Dust
Before the guests arrive, make sure that the house has been thoroughly dusted – including the duct vents and areas around them. While cleaning is usually on the agenda before a big event, sometimes dusting can take a back seat to more obvious chores. However, dusting is an essential component is helping your HVAC this holiday. The extreme winter weather in the past few weeks means that your home has probably been sealed tight. Dust and dirt can collect when the airflow has been restricted, which means that your HVAC has been pulling in a lot of that debris (and collected in the air filter). When possible, dust with a vacuum or a sheet of microfiber.
Change Air Filter
As stated many times on this blog, changing your HVAC air filter once a month during peak seasons is always a good rule of thumb. But if you've already changed the filter for the month, give it a quick inspection and consider changing it out again if it's dirty. The extra foot traffic in your home will increase the dirt, dust and pollutants in the air. A clogged air filter restricts airflow and can also affect the temperature of the air. Your HVAC will end up working harder and using more energy to circulate air that has been compromised.
Consistent Thermostat Setting
With additional people in your home, and the constant flow of holiday guests, it will be tempting to raise or lower the thermostat whenever the temperature becomes uncomfortable. One of the easiest ways to increase your energy bill is to constantly change the setting of the thermostat. Wait until you have the maximum amount of people gathered – then find a temperature that is ideal. Keep the thermostat at that setting throughout the extended break. If you are traveling for the holidays, leaving the thermostat set between 50 – 60 degrees will ensure you save money while keeping the interior of your home at a safe level of warmth.
Open the Shades
Remember to open the curtains and blinds on days that are sunny. In the winter, using the sunlight to boost the indoor heat is a good way to help keep utilities down. The natural sunlight helps to reduce the amount of work that your HVAC does in order to keep it warm. This phenomenon, called passive heating, is an important supplement to your winter heating. Depending on the angle of your home you can save quite a bit of energy throughout the season.
Stock Up on Blankets
You will want to make sure that your houseguests are warm – especially at night. To keep everyone comfortable (and from adjusting the thermostat), keep plenty of clean blankets at the ready. This is especially important when the outside temperatures are hovering around zero. Sherpa, wool, flannel, and fleece blankets are ideal for cold nights. You might also consider sleeping bags that are rated for sub-zero temperatures. They are great for additional layering and can be transformed into a proper bed blanket with the addition of a duvet cover.
Check for Air Drafts
If you are hosting guests over the holidays, you will want to make sure that any drafts have been sealed. That cold guest bedroom should be your first stop! Drafty windows can be easily fixed with transparent window film. There are several different brands of film insulation, but most work in a similar fashion. The plastic film sheets are cut to fit the window area and then molded airtight to the glass through the application of heat. Drafts in walls that come though the plumbing or small cracks/gaps can be easily fixed with latex caulk or weather stripping.
Ceiling Fan Support
Just like ceiling fans boost the cool air in the summer, they can also help make the most of the warm air in the winter. If you have a ceiling fan with reversible blade movement, set it to run clockwise. When the blades turn counter-clockwise, they pull up the warm air. When they move in the reverse, they push the warm air back down and help maximize the available heat.
A spirited holiday gathering with several people will increase the warmth in your home even without the additional precautions. But by taking a few hours to help boost your home's heating system, you'll not only be saving energy, but ensuring that your family and guests are comfortable throughout the holidays. Remember that Always Plumbing & Heating has agents available 24/7 for any HVAC emergencies that might occur during your festivities. If you begin having problems with your central air system give us a call at 780-489-8118. Don't let a heating problem compromise your holiday!
Related Blogs:
Winter Weather Precautions for Edmonton Homes
Winter Energy Saving Tips for Edmonton
Call us at 780-489-8118 to learn more about winter plumbing and heating in Edmonton. You can also contact us online to reach our plumbers.
Contact Us