Winter Energy Saving Tips for Edmonton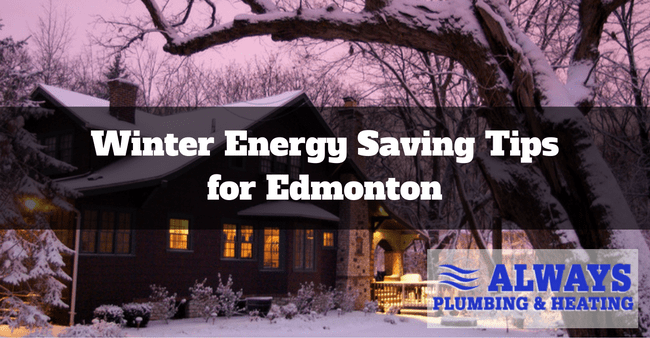 Though winter hasn't hit Edmonton in full force just yet, we've already had a taste of the chilly weather to come. As the temperatures continue to plummet over the next few weeks and months, thoughts turn to keeping safe and warm in our homes. Because of the harsh winter weather, thoughts also turn to ways of saving energy while maintaining the comfort of your household. There are several simple procedures that you can do to ensure a more energy-efficient home during the coldest months.
Always has compiled a list of helpful ways to reduce the cost of energy this winter without compromising on comfort.
Seal Drafts – Most homes have a few areas where cold air can creep in; windows, doors, sink piping and basements are just a few of the usual suspects. Insulating and air sealing these areas will go a long way in lowering your heating costs. Insulation kits and products made specifically for filling small cracks are readily available at the local hardware store.
Five Ways to Seal Your Windows for Winter
Ceiling Fan Switch – A little-known fact about ceiling fans is that they can also be used to help distribute heat. A fan moving counter-clockwise will help push warm air up – and a fan moving clockwise will help trap the heat and keep rooms warmer. Most modern ceiling fans have a switch that will allow you to change the direction of the blades. Good ventilation and airflow will also help with energy efficiency, so keep the ceiling fans running throughout the season.
Adjust the Thermostat – By turning your thermostat down 10 – 15 degrees for eight hours a day, you can save about 10 percent a year on your utility bills. Try turning the thermostat down every night before bed – and simply bundling up. If sleeping is a problem in cooler temperatures, try turning down the thermostat while the family is out of the house during the day.
Unplug Electronics – During the winter, and especially during the holidays, we tend to use more electronics. Make sure that you unplug your gadget chargers, computers, tablets and any other product that requires electricity when it isn't being used. Even when these products are not in use, they are using electricity when they are plugged in.
Sunlight – The most obvious, yet neglected, source of free heat is sunlight. Open the curtains and blinds during sunny days, which will help to heat the home. South-facing windows will get the most benefit, so make sure they are open all day to ensure maximum exposure.
Insulation – One of the best ways to keep your home energy-efficient throughout the year is to add insulation to your home. Many older homes (and even new ones) can benefit from adding extra insulation to their attic or walls. Those drafty areas in the walls that compromise your heating every winter can be minimized with additional insulation. A home energy audit by a professional technician can determine how much insulation you already have – and help determine problem areas in your home that would benefit from air sealing and insulation.
Decorate with LED Lights for the Holidays – If you are big on decorating for the holidays,consider using LED (Light Emitting Diodes). LED's last up to 25 times longer and are at least 75% more efficient than incandescent lights.
Save on Home Heating in Edmonton
Remember that another good way to save energy (and money) this winter is to schedule a tune-up for your boiler or furnace. An annual tune-up will help keep your heating unit running at maximum efficiency and ensure a long life. Call Always Plumbing & Heating today at 780-489-8118 to schedule maintenance on your boiler or furnace.
---
Book your furnace and boiler maintenance inspection today for efficient home heating in Edmonton. Call Always Plumbing & Heating at 780-489-8118 or contact us online .
Contact Us