Volunteer in Edmonton this Holiday Season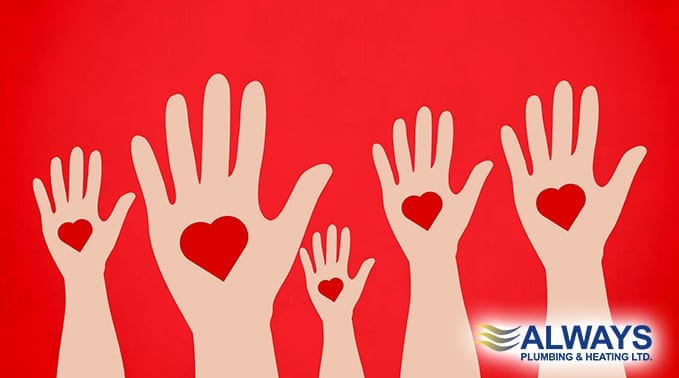 It's no secret that Canadians have a reputation for being some of the friendliest people in the world. If you don't volunteer for a charity yourself (not everyone has the time) you probably know someone who does. Usually, that friend invites other friends – and before you know it, everyone you know is involved in the same volunteer work. In fact, Canadians are so neighborly that in two surveys from Statistics Canada, in 2010 and 2013, almost half of all Canadians volunteered during the previous year.
Since Always Plumbing and Heating first began over 16 years ago, it has been important to us that we also give back to the community. We deeply value our work with charities such as the Ronald McDonald House of Northern Alberta, St. Albert Food Bank, and Youth Empowerment and Support Services.
The holidays in Edmonton and Alberta are full of volunteer opportunities for the whole family to give back and get involved in the community. There are roles available for all ages, from delivering meals and food to those in need, to being an anonymous Santa Clause and collecting, wrapping and delivering gifts. The best gift you can give your neighbors and community this season is your time. Help ring in the holidays with one of these fun and rewarding volunteer opportunities near you.
Ronald McDonald House Charities
The RMHC of Northern Alberta has many volunteer opportunities to give back this holiday season. Groups of up to 12 can volunteer to prepare "Meals That Mend" for families. Individuals can volunteer in a variety of ways to benefit both the house and children.
Go to their website for more information.
St. Albert Food Bank
The holiday season is the busiest time of year for St. Alberts food bank. Join them in collecting food donations and building hamper baskets to help those in need this Christmas.
Visit their website for more information on volunteer opportunities.
The Christmas Bureau of Edmonton
The Christmas Bureau works to feed and clothe families in need in Edmonton. They have many ways to help.
Go to their website to see how you can help someone in need this Christmas.
Edmonton Meals on Wheels
This is a local non-profit that provides home-delivered meal and food services to a diverse mix of people who cannot prepare meals or shop easily for themselves. Volunteers have the opportunity to deliver to community groups, be a driver, kitchen helper or grocery shopper.
Visit their site for more information.
Bissell Centre
During the month of December shoppers can have their gifts wrapped by Bissell Elves for a donation to Bissell Centre. Volunteer as a Bissell Elf at the Southgate Gift Wrap from November 23rd – December 24th.
Go to their website for more information on being a Bissell Elf.
630 CHED Santas Anonymous
Volunteer with Santas Anonymous this holiday season and experience the magic! They work to fill the toy requests they receive from 25,000 less fortunate children in Edmonton. Volunteers have the opportunity to deliver gifts, sort donations, prepare gifts for age groups and bag toys for specific families. Delivery weekend is December 16th and 17th and is open to volunteers of all ages. Get the whole family involved in the community spirit!
To get involved visit their website!
Angels of Hope
Volunteer at The Mustard Seed as an Angel of Hope this December. From card making to cookie decorating and so much more, Angels of Hope lead activities that foster community at a time of year that can often be lonely and difficult. The Mustard seed wants people experiencing homelessness and poverty to know that they are loved, cared for and deserve to experience all the hope that the season has to offer.
The staff at Always Plumbing and Heating want to wish you and yours a safe and happy holiday season. Don't let a leaky faucet or faulty heating spoil the fun! The holidays are the worst time to experience a plumbing or furnace emergency. Let us be there for you. We offer emergency service 24 hours a day and 7 days a week. No matter the time, or day, Always Plumbing and Heating are the experts you can rely on! Call us throughout the holidays at 780-489-8118 (Edmonton) or 587-601-1253 (Fort McMurray) to schedule an appointment.
Contact Us