Tips for Green Bathroom Remodeling in Edmonton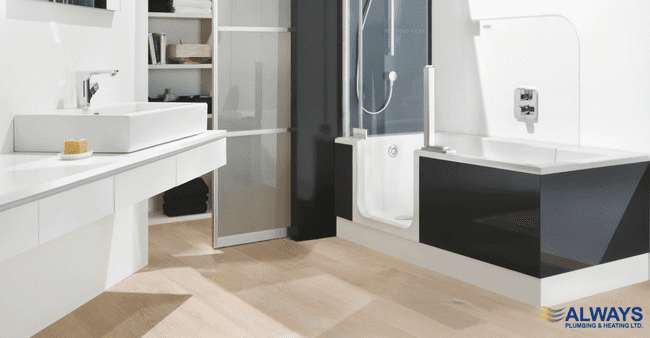 If you've been thinking about remodeling your Edmonton bathroom, there's never been a better time to renovate using green technology. Modern fixtures that use less water and energy are readily available and more affordable than ever. You can also find recycled and sustainable materials essential for a bathroom renovation at most home improvement stores. From the paint to the cabinet hardware, there are a variety of options for creating a more eco-friendly environment. We've complied some essential notes for the early planning stages of a green bathroom renovation in Edmonton. Add these ideas to your notes as you research products and materials that fall in line with your design and efficiency needs.
Flooring – Thinking of replacing that scratched vinyl flooring with something more durable and eco-friendly? There are lots of options on the market for water and fire resistant flooring made from renewable resources. Recycled glass tile is non-absorptive and is mould and mildew resistant. You can also find designs in in a variety of colors, patterns and unique finishes. A sustainable material that has recently been gaining popularity in Edmonton is polished concrete. This versatile flooring can be polished and tinted in a wide array options, making it easy to incorporate into any design scheme. Concrete is extremely easy to clean and maintain; ideal for the bathroom. Other great eco-friendly flooring materials include recycled rubber, linoleum and cork.
Low Flow Plumbing Fixtures – Modern low-flow bathroom fixtures have come a long way from their inefficient counterparts. Early toilets, faucets and shower heads designed to save water performed inadequately. The low pressure and limited water output did not offer comparable comfort or convenience. In fact, some early low-flow plumbing designs used more water as users ended up double-flushing or washing for longer periods of time. New technology has greatly improved these designs, which perform as well or better than previous standard models. A toilet made before 1992 required 3.5 – 7 gallons of water to function properly, today's low-flow models use about 1.3 gallons. Low-flow (also referred to a "high performance") faucets and shower heads use aerating technology to deal with the previous pressure issues. New designs can reduce the water flow of a sink or shower by 30 percent or more.
Paint – Volatile organic compounds (VOCs) in paint are potentially dangerous solvents that are released into the air weakening indoor air quality. There are a few companies that manufacture house paint with low-to-no VOCs. Sherwin Williams and Benjamin Moore have locations in Edmonton and have had success with their low VOC paints. Some of the zero VOC paints have received mixed reviews, so a bit of research will be needed if this is what you decide upon. There are also products like epoxy floor finishes that contain zero VOC – and most of these products can be found at your favorite home improvement store. Plenty of color options and a realistic price point make using them an easy decision.
Cabinets/Countertops – Be mindful of the material you are using if you plan on replacing your current cabinets and countertops. Though it might make financial sense, try to avoid particleboard and fiberboard unless you can locate versions that contain low-to-no formaldehyde. Particleboard is made with 100% recycled materials, but any environmental advantage is erased with the glue used to bind the wood fibers. The glue contains formaldehyde which emits gasses in which decreases indoor air quality and can pose a health risk. Talk to your contractor about using exterior-grade plywood or solid wood that has been certified by the Forest Stewardship Council (FSC) to ensure it was harvested sustainably.
Rethink your bathroom renovation with a more energy-efficient and eco-friendly design scheme. It's never been easier (or inexpensive) to remodel your Edmonton bathroom in "green." Need some assistance? We can help with plumbing, sink and toilet installation and even replace your tank water heater with a tankless model to help cut energy consumption even more. Call us at 780-489-8118 to schedule an appointment today!
Related Blogs:
Plumbing Resolutions for Your Edmonton Home
How to Know When Your Hot Water Tank Needs to Be Replaced
To request a service appointment, give us a call at 780-489-8118 or contact us online.
Contact Us