Always Plumbing COVID-19 Update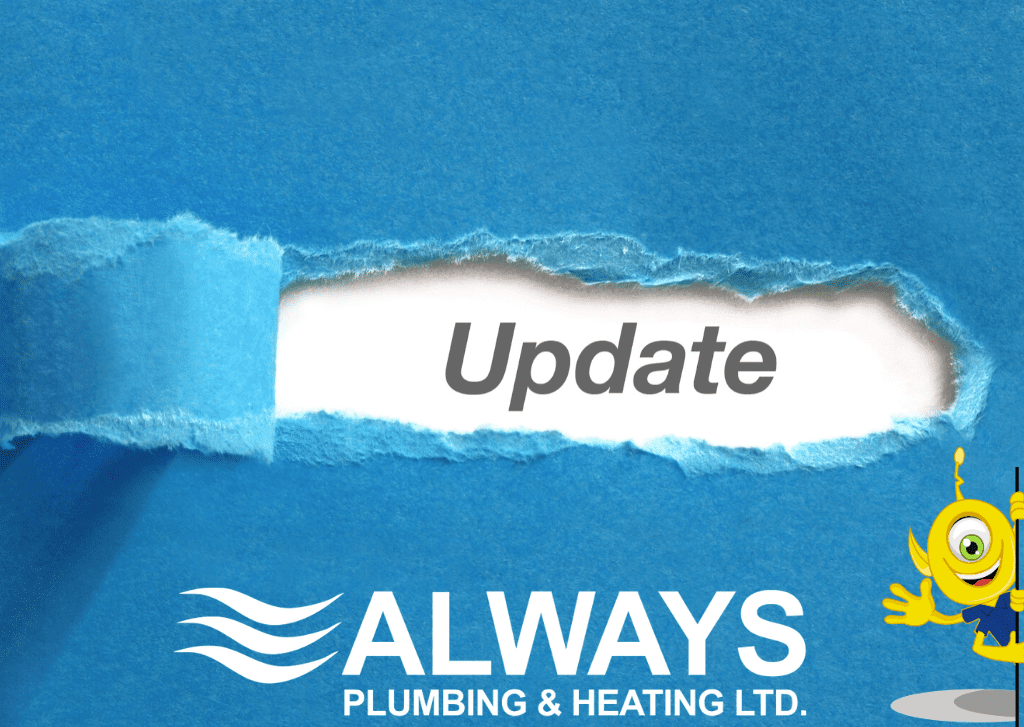 TO OUR VALUED CUSTOMERS
We are speaking out to you on behalf of concerns of our staff and customers surrounding the COVID-19 pandemic. There has been a lot of confusion and fear surrounding the pandemic, and rightfully so. People are hesitant to leave their homes or to welcome people into theirs. The confusion falls around what is acceptable behaviour, and what is not. There seems to be a need for clarification on what constitutes social distancing, and how this is different from self-isolating. Only those who meet specific criteria have been advised to self-isolate. The following piece was written by Sara Davis, Critical Care Registered Nurse and Co-owner of Always Plumbing & Heating.
What is Physical Distancing?
It has been recommended by the Government of Alberta to practice social distancing to slow the spread of COVID-19.
Physical means minimizing "close contact" with others by doing the following:
Avoiding crowded places
Not holding or attending social gatherings with people not in your immediate household (or your permitted two contacts if you live alone)
Avoiding physical contact with people outside of your immediate household
Keeping a distance about 2 metres between yourself and others
Limiting or avoiding contact with people who are at a higher risk of contracting COVID-19 (elderly people, individuals with underlying health conditions, etc.)
Stay home if you feel unwell, especially if you have any COVID-19 symptoms
Above all, wear a mask if you must be around other people and wash your hands frequently
Physical distancing applies to everyone and we are required to follow government-issued guidelines to serve the public. You might require an essential service from Always Plumbing & Heating that will require us to come into your home. Our technicians will follow all required guidelines and precautions to keep our customers safe. You must ensure anyone in your household does not meet the screening criteria to self-isolate before making or allowing a service appointment to proceed to keep our technicians safe as well.
What does Self-Isolation Mean?
Self-Isolation means avoiding situations where you could infect other people. If you have been told to self-isolate, you should be spending most of your time in one designated room in your house to avoid infecting other household members. You should not leave your house to go into public places. You should also avoid having any non-essential visitors in your home. If an emergency arises and you must have someone in your home during your time of self-isolation, you should advise them first so that proper precautions can be taken.
Self-isolation is different then social distancing, in that it is only necessary if you meet any of the following criteria (as per Alberta Health Services):
ALL travelers who returned to Alberta from outside Canada on or after March 12th are required to self-isolate immediately as instructed by Alberta Health guidelines.
Travelers who returned to Alberta from Italy, Iran, the Hubei Province of China or the Grande Princess Cruise ship, before March 12th, must also self-isolate, and must monitor themselves for symptoms as instructed by Alberta Health guidelines. If symptoms do develop, stay home and call 811 immediately.
Anyone who has symptoms, including cough, runny nose, fever or sore throat, must also self-isolate as instructed by Alberta Health guidelines
If you are not sure if you need to self-isolate, use the screening tool launched by Alberta Health Services by visiting: AHS COVID-19 Screening Tool.
*Some people who do not meet the criteria for self-isolation, but are at risk for severe illness if they acquire the virus (elderly, chronic underlying medical conditions, or immunocompromised persons), should practice protective self-separation. This would include avoiding contact with others, and avoiding public places when possible.
What Does This Mean for Our Customers?
The health and safety of our customers and our employees remains our greatest concern. At Always Plumbing & Heating, we continue to operate our business operations with little disruption, while taking into account some additional screening measures and precautions, both prior to and while attending service calls in customers' homes.
Here is what we at Always Plumbing & Heating are doing in response to the COVID-19 pandemic:
We are screening our employees for symptoms. Any employee who is symptomatic is not permitted to work and will be sent home to self-isolate as instructed by Alberta Health guidelines.
Any employee who meets the criteria for self-isolation for any other reason, will also not be permitted to work.
We have added additional screening questions when booking your service call. We want to know if you are currently under quarantine, or if you should be. These questions may be asked again by the technician before entering your home. We also encourage our customers to feel comfortable asking the same questions of their technicians.
We have advised our technicians to practice social distancing while in a customer's home. This means allowing a space of about 2 arms lengths between each other.
We are also practicing social distancing in our office space.
Our technicians have received training sessions on proper hand hygiene.
When a technician arrives at your home, he or she will wash their hands with the hand soap and paper towel that we have provided them with.
When your service call is complete, our technicians again will perform hand hygiene.
We are actively looking for hand sanitizer as a supplement for hand hygiene. This has been in short supply due to a surge in demand. But remember, soap and water is the most effective form of hand hygiene.
Our technicians will continue to use protective shoe covers before walking on your floors. This prevents tracking anything on your floors.
We are disinfecting tools and equipment between service calls.
We encourage our customers to provide us with their credit card number over the phone when booking their service. This prevents the need for handling portable debit machines.
If you or a family member have met the criteria to self-isolate, we ask that you delay your non-emergent plumbing or HVAC service until the self-isolation period is up, and until you have received the approval from the health authorities to come off self-isolation. If you have an emergent plumbing or heating need during your time of mandated self-isolation, we would be happy to troubleshoot the issue with you over the phone for the time being (even if it is only a temporary solution) and then come to your home once the isolation period is over. If we are not able to provide a temporary solution for you while you are under self-isolation, your situation will be looked at by management and a decision will be made on how we can assist you while protecting ourselves.
As you are spending more time at home these days while you practice social distancing, you may begin to notice some nagging plumbing or HVAC concerns that you have been neglecting. There are many DIY tasks that you can do yourself to properly maintain components of your home's plumbing and HVAC without needing to hire a plumbing company. You can find these suggestions by reading through our many helpful blog posts.
Some tasks are best left to the professionals, such as repairs or replacements of old or faulty equipment, and HVAC equipment maintenance. Here at Always Plumbing & Heating, we are equipped to answer your questions and concerns, and assist you with your home repairs and maintenance work. Remember… you can still have a service worker in your home and practice effective social distancing. Just remember to avoid handshaking, practice proper hand hygiene, and keep a distance of 2 metres between yourself and the service worker.
We want to bring you comfort! This includes ensuring you are comfortable welcoming us into your home, knowing that we have taken extra precautions in response to the COVID-19 pandemic to inform and protect our staff and our customers. Rest assured, we are here to help you as an essential service provider…Always!
Written by Sara Davis, BScN, RN, Critical Care nurse and co-owner of Always Plumbing & Heating LTD. Information and government recommendations are evolving daily. The information above was compiled by Always Plumbing & Heating, and is not meant to override medical advice from health authorities. Check with your local health authorities on any changes.
Resources:
https://myhealth.alberta.ca/Journey/COVID-19/Pages/COVID-Self-Assessment.aspx
https://open.alberta.ca/dataset/44e7c639-7bb6-4bb4-9138-1abf5c56a7b8/resource/91cd86ac-7eaf-4376-9f9a-0b600a9af2fa/download/health-self-isolation-information-sheet.pdf
https://www.alberta.ca/coronavirus-info-for-albertans.aspx
https://www.canada.ca/en/public-health/services/publications/diseases-conditions/social-distancing.html
https://www.canada.ca/en/public-health/services/diseases/2019-novel-coronavirus-infection/health-professionals/public-health-measures-mitigate-covid-19.html
Contact Us