Always Plumbing & Heating and Play 107 have teamed up to give you warp speed warmth, with a Reznor® garage heater professionally installed by Always Plumbings' five-star service team.
Enter a photograph showing us why YOUR family needs a heated garage this winter! Vote for your favorite photo between October 24 and November 13, 2022.
One vote per user, so use it wisely!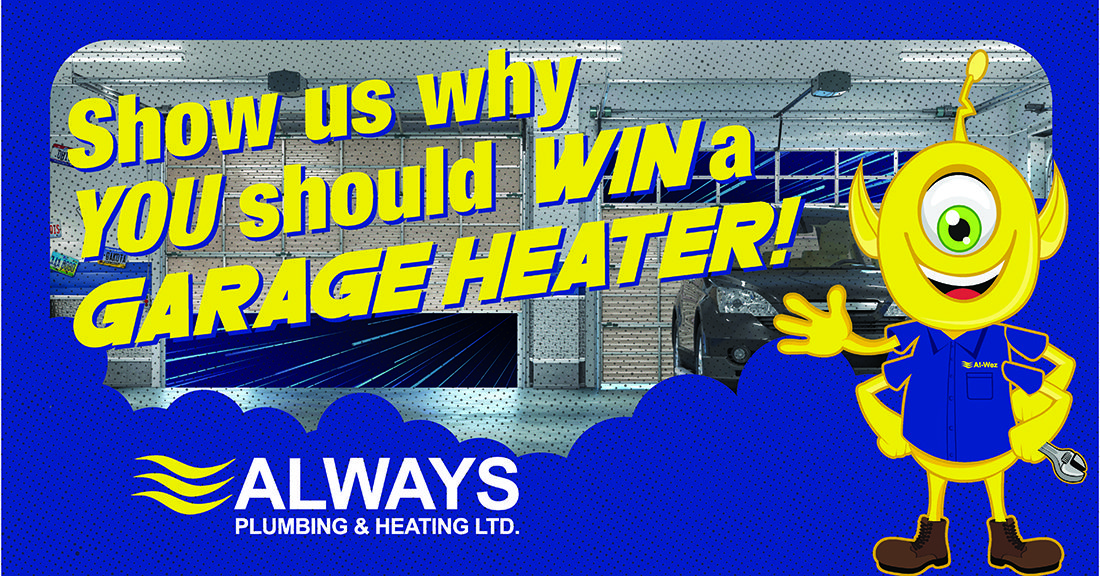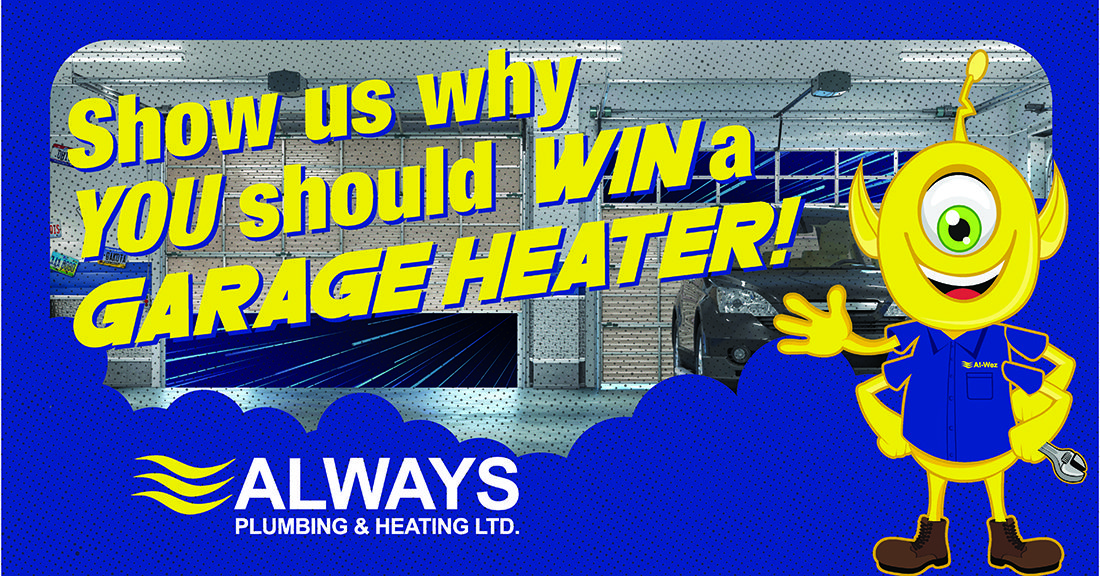 User Registration
Register or login to enter the contest and to vote
Win a Reznor® garage heater with installation
Submit your photo that clearly displays why your family needs a heated garage this winter.
To vote for your favorite picture, simply register above then click on the image you want to vote for and click on the stars.
Share this Page with your friends on Social Media to get them voting!
Contest concludes on November 13/22 at 2359h MST.
*By entering of the contest, participants agree to have read, understand and follow the rules as stated in the provided disclaimer below.
No images have been added to the gallery. Upload your image.
Disclaimer
Equipment provided is a Reznor UDX30N 30,000 BTU natural gas garage heater which typically heats a standard 400-500 sq foot insulated single car garage, with
professional installation by Always Plumbing & Heating with up to 20′ gas line hooked into preexisting gas connection in garage, including permits and warranty.
Potential extra costs to consider:
-trenching of gas line to detached garage or adding a gas connection to an attached garage
-electrical (if additional outlets or wiring is needed)
-upsized garage heater if winners garage requires larger unit that the one awarded
If contest winner has a larger size garage, they will be provided with upgraded size options based on need and will be given wholesale price for the upgraded size with price offset from advertised unit.
Must be installed in the service area listed on alwaysplumbing.ca and prize package is non-transferable. In order to receive garage heater, it must be professionally installed by Always Plumbing & Heating as outlined above. Must be redeemed by December 31, 2022. Gas lines will not be trenched after ground has frozen. In the circumstance that the winner has a detached garage and requires trenching, installation must be prearranged for Spring 2023.
In the event that the winner declines, the runner up will be contacted. Always Plumbing & Heating reserves the right to withhold and award to a runner-up, in the event of suspicious bot activity. Contest starts October 23, 2022 at 0530h and ends November 13, 2022 at 2359h MST. One vote per household, so use it wisely!
Past Contest Winners
2021 Win a YORK Air Conditioner
This contest was won by Margaret of Edmonton, Alberta. The photograph of her son, Asher, received the most votes, with her description as to why an air conditioner will make all the difference in his life. Congratulations Margaret and Asher!