Most Efficient Ways to Heat a Garage During Alberta Winters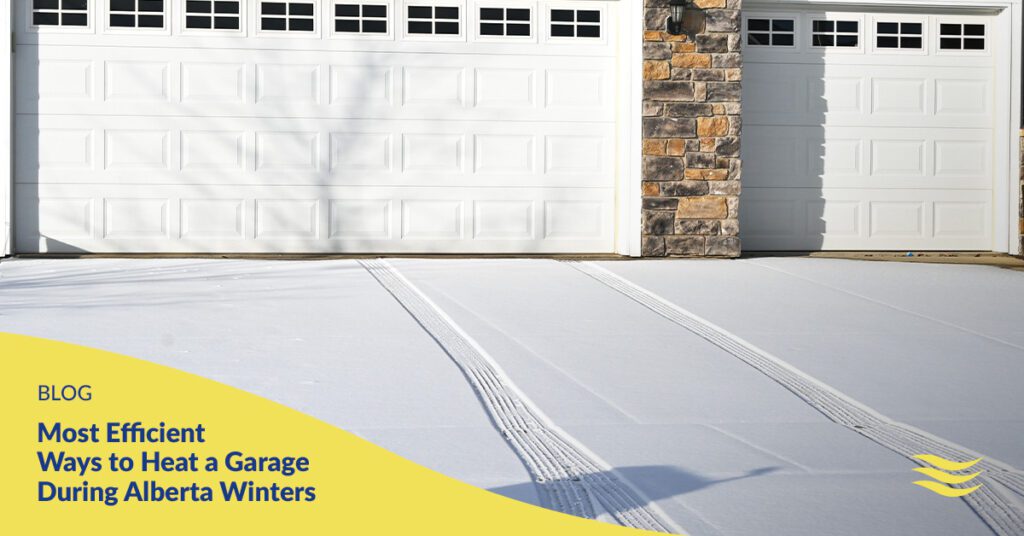 Chilly Alberta winters can be rough, but you don't need to spend all your time in the cold! A heated garage can make winter a little more tolerable. If you've ever considered using that space for a home gym, workshop, or for nurturing your indoor plants, installing a garage heater is a necessary step.
There are several things to consider to ensure your garage heater is the right fit for you.
Evaluating Your Heating Needs
Whether you have a detached or attached garage, a single or double bay, or a roll-up or swing-out door, there are multiple options for heating the space, and many reasons to do so.
Gas heaters measure heat in BTUs, and there are appropriate BTU sizes for each garage type and the temperature needs. For example, a two-car garage requires heaters in the 30,000-40,000 BTU range, while a three-car garage needs heaters greater than 45,000 BTUs.
Electric heaters are a little different. They're usually defined by wattage. A good rule of thumb to calculate the size of the electric heater you'll need is 10 watts per square foot of space. For example, if your garage is 14' x 22', it has 308 square feet of floor space. You'd multiply that by 10, which would give you 3,080, which is approximately the wattage you'd need.
One of our expert technicians can assist with accurate measurements and present gas and electric heater options based on the specs of your space. We follow the natural gas and propane installation guidelines established by The Alberta Municipal Affairs and the Safety Codes Council. These are to be followed by installers like Always Plumbing and Heating, contractors, owners, and builders.
Insulating Your Garage
While an attached garage doesn't need to be insulated to the same energy value as the home (according to the Alberta Building Code), we still highly recommend insulating the space well. A lack of insulation can cause cool air to pass into the house, which isn't great news for your utility bills. Many detached garages also aren't properly insulated. If you're considering heating your detached garage, you're throwing money out the window if you haven't also installed insulation. Fiberglass, polystyrene, and mineral wool are the most popular insulation options for garages, and you can do it yourself. These materials range anywhere from $0.30 to $1.50 per square foot.
Once your garage is insulated, it is time to pick a heater! Here are some different types of garage heaters to consider:
Natural Gas Garage Heaters
A natural gas heater, often called a convection heater, uses air currents to warm up your space. The air moves through the unit and across the heat, and then a fan pushes the air out.
If you have a smaller garage, this is a fantastic and versatile choice. Convection heaters warm a small area. Bonus: They're very quiet! The cost of a natural gas heater will vary, depending on how many BTUs you require.
We prefer the heaters developed by Reznor and Modine. Reznor provides many options. Regardless of which model you choose, you'll have an energy-efficient unit, with an excellent warranty. Modine garage heaters come in a range of sizes, from 30,000 to 125,000 BTUs. They have a low profile and have permanently lubricated motors, which minimizes the need for maintenance. We can help you choose the best brand for your garage.
These heaters require professional installation by a gasfitter since access to your gas lines is required. This is not a DIY project!
Once your heater is installed, be sure to keep items at least a few feet away from the unit. These are safe units, but accidents happen. We also recommend having smoke detectors in spaces where these heaters will be used and choosing a model that has a sensor that will shut the unit off if it overheats.
Infrared Garage Heaters
Infrared heaters are very quiet. They create heat in an infrared tube. This type of heater tends to warm objects before it warms up people, so keep that in mind. It takes a bit to feel the warmth.
This is usually the most efficient way to heat a garage, which is good news for your wallet. We carry and install infrared heaters by Reznor, and can help you choose the right one for your space.
Infrared garage heaters are a great option if you have small children or pets. They're usually installed near the back of the garage, suspended in the air. These units also don't move the air around, like a forced air heater, eliminating the circulation of dust and other allergens. This is perfect if you're planning to use your garage as a DIY space!
Forced Air Garage Heaters
A forced air heater is a great option for heating your attached garage, especially if it's a large space. These systems operate like a traditional furnace. A strong fan draws air in, warms it up, and then blows it back into the space using air ducts.
This kind of system tends to be a little more expensive to install since there is ductwork involved. We also recommend regular maintenance checks to spot any issues.
Radiant Garage Heaters
Radiant heaters go under your flooring, walls, or ceiling. They are panels that use infrared radiation to heat surfaces instead of the air. They are very quiet, much quieter than forced air systems, so if you're considering using your garage for crafting, woodworking, or entertaining, this is a great option.
They are a little pricier to install since it involves tearing up and replacing flooring, but once installed, they have a very low operating cost. This is a good option to consider if you're building a new garage, so you can have the panels installed before the floor is done.
Portable Space Heaters
You've probably seen a portable space heater before, tucked under a desk in the office or in a cool corner of someone's home. They come in a variety of sizes and can be moved around to wherever you need them.
This is a cheap and temporary way to heat a garage. Energy-efficient portable space heaters shouldn't impact your power bill much, but you might see a bit of an increase, depending on how long you run it during the winter. As long as you have access to a power outlet, you can use a space heater, making sure you keep it away from combustible materials and place it on a hard, level surface.
Want to make sure buying a garage heater is the right decision for you? Here's some advice from our plumbing experts.
What is the most efficient way to heat an attached front garage?
Infrared heaters are an excellent option for heating an attached front garage. They also don't dry out the air, since these systems don't move the air around the space.

Are garage heaters worth it?
Having a heater garage allows you to use the space all year round. Not only does it save time by warming up your vehicle each frigid winter morning, but you can also use the garage for exercising and DIY projects.

What's more efficient: a gas or electric garage heater?
Typically, an electric garage heater is cheaper to purchase and install, but a natural gas heater is cheaper to operate.

How do you heat a garage that is not insulated?
While it is always a good idea to insulate a space before heating it, infrared heaters are the best choice for a garage that is uninsulated. These units heat objects instead of the air, so you'll wind up with less overall heat loss.

Where should I place my garage heater?
Some garage heaters can be mounted on the ceiling or wall, which is a great approach. If your heater can't be mounted, make sure to put it on a hard, level surface, away from children, pets, and combustible materials.

Contact Us