Always Plumbing & Heating is giving you a chance for sweet, cool relief, with a York Air Conditioner professionally installed by Always Plumbings 5 star service team. Submit a photo of your family desperately dealing with the heat, and show us why YOU deserve a cool BREEZE! Submit your photo and vote for the winner now. One vote per user, so use it wisely!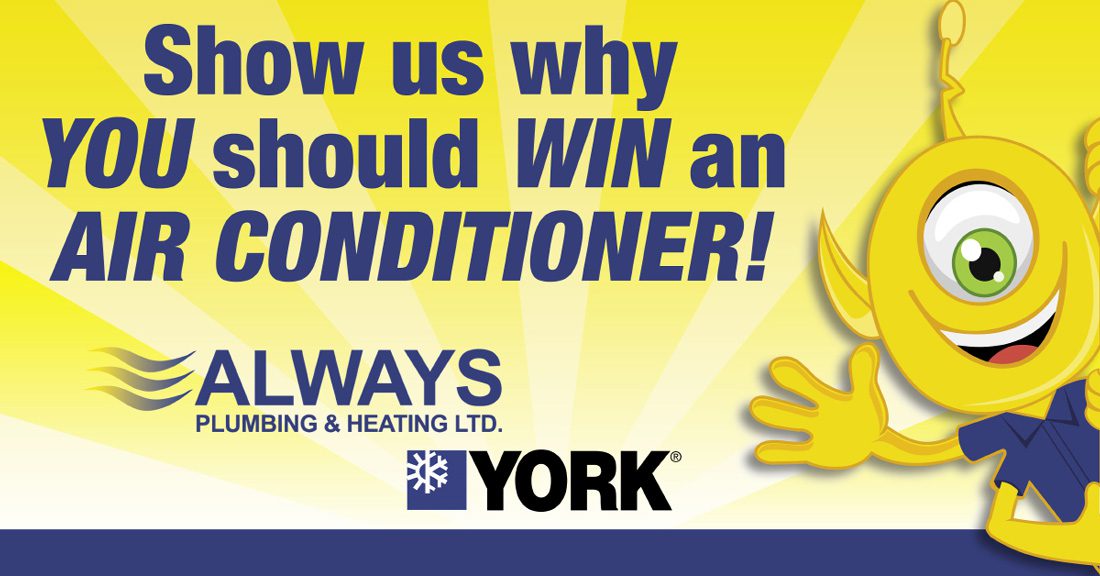 User Registration
Register or login to enter the contest
Win a York Air Conditioner with installation
Contest Closed and We are Tabulating Your Votes!
Winner will be contacted on July 13, 2021.
Fine Print:
Winner must be located within the service areas listed on alwaysplumbing.ca.  Winner will be contacted on July 13/21. Successful winner must own their own home and live in a detached family home or townhome. Central A/C cannot be installed into an apartment or condominium. If the winner does not meet the criteria listed above, the York Air Conditioner will go to the first runner up that meets this criteria. The winner must accept the air conditioner with installation as this is not an equipment-only giveaway. There may be some additional costs with the installation if the home it is being installed has any unique features that make the installation more difficult than a standard installation. The winner will agree to pay any additional costs during the install, which will be quoted up-front prior to the install taking place. In the unlikely event that the installation is complex and has additional costs, and the winner does not wish to pay for the overages, the prize will be forfeited and go to the next runner up. Prize must be claimed and installed by September 1, 2021 by the experts at Always Plumbing & Heating. The successful winner agrees to have their photograph posted on alwaysplumbing.ca and all associated social media accounts. The winner agrees that YORK Air Conditioners has the right to share their story and photograph after installation of their York Air Conditioner.
The winner cannot apply their prize value toward a previously purchased air conditioner.
In the event of a tie, the winner will go to the person with the highest star count and highest vote count. In the event of a tied star rating and tied vote count, the tiebreaker will be randomly drawn on live video and announced on social media on July 13, 2021.
Entries must be original photographs taken by the person entering the contest. Stock photos and intellectual property of another person or organization will be deemed ineligible.