Winter Storm Safety Tips for Your Edmonton Home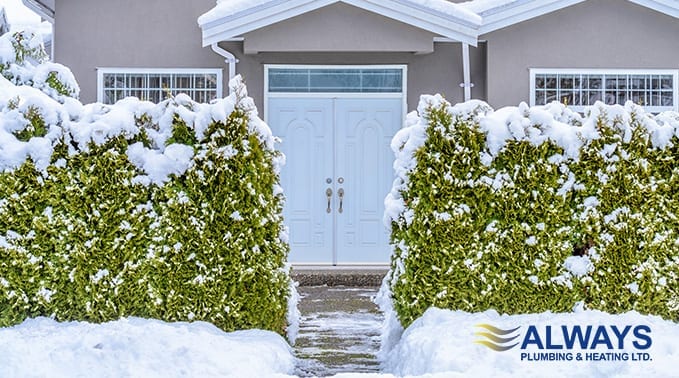 With temperatures averaging well below freezing in Edmonton during the winter, you can never be too prepared for the cold. Here it's not a question of "if," but "when" storms will arrive. It can be an unforgiving season if you suddenly find yourself without heat, electricity, or caught out in the cold. Winter is also the most common time of year for cooking/grease fires, electrical fires, plumbing problems and other home hazards. With people spending more time inside in the winter, the home endures more day-to-day activity – and the wear and tear that is associated with it. These winter storm safety tips will ensure that your Edmonton home is as safe as it can be and ready for any size storm that may come.
Winter Home Safety Tips
Always use the 3 feet rule when using a space heater. Make sure it is on a level surface and at least 3 feet away from anything flammable such as curtains, rugs, and blankets.
Make sure all Christmas and holiday lights are turned off when you go to bed for the night or leave your home.
Use a glass or metal fire screen large enough to prevent sparks or rolling logs from escaping.
Keep a trickle of water running in your sink to prevent pipes from freezing.
Winter is the most common time of year for home fires. Never leave your stove or oven unattended, and never use it to heat your home.
Only use generators outside. They should never be operated inside the home or garage.
Have a professional remove icicles as soon as possible. If you do decide to remove them yourself, always wear a hardhat and safety glasses.
Keep your driveway and walkways clear of snow and ice. Here in Edmonton, this can be an ongoing battle. To prevent ice build-up, follow-up snow and ice removal with ice melt or rock salt on steps and walkways.
Keep your home a little cooler and use a humidifier to make your home a less friendly environment for viruses.
Make sure there is a carbon monoxide detector on every level of your home. Test them regularly to make sure they are working.
Test smoke detectors twice a year and replace batteries as needed.
Make sure your furniture is not blocking your home's heating vents.
Keep cabinet doors open to allow warm air to circulate to the pipes and prevent them from freezing.
Consider an insulated blanket for your hot water heater.
Keep fire extinguishers in convenient locations. Make sure everyone knows where they are and how to use them.
At the beginning of each winter season, go over all safety precautions with everyone in the household. Check the smoke detectors, carbon monoxide detectors and fire extinguishers. Have a safety plan and make sure everyone in the household knows where extra flashlights and emergency kits are. This winter, remember to regularly check in on the elderly and be careful of over exertion when working or playing outside. Harsh winter weather can be dangerous if you are caught off guard or unprepared. For any of your home's needs this season, don't wait, contact Always Heating & Plumbing at the first sign of trouble. Call 780-489-8118 (Edmonton) or 587-601-1253 (Fort McMurray) to schedule an appointment.
Contact Us