Winter Plumbing Maintenance in Edmonton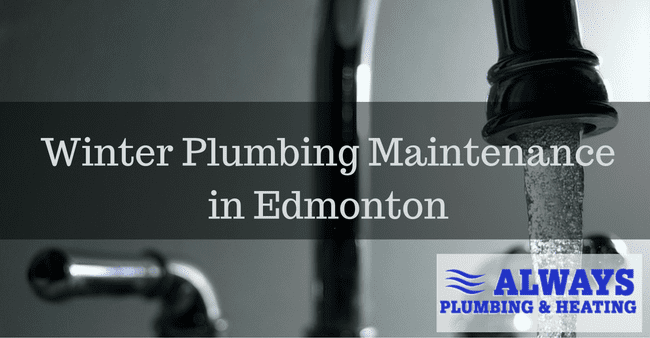 Another Edmonton Halloween on the books means that winter is right around the corner. The arrival of colder weather also means that homeowners should be thinking about their annual winter plumbing maintenance. Cracked pipes are always a concern when the temperatures start to dip below freezing, but there are a variety of other issues that winter imposes upon a plumbing system. The good news is that these problems can be easily minimized and often prevented with a few proactive steps.
We've compiled a list of DIY solutions that should keep the water running throughout the winter season – and ensure your plumbing remains in great shape for years to come.
Insulate Pipes (Exterior)
We've already reached freezing temperatures in Edmonton, so hopefully homeowners have secured their outside plumbing fixtures. But these steps are essential for keeping pipes from cracking, so it's worth noting for those who have yet to prepare. First, it is important that you unplug all garden hoses, drain them of excess water and place them in storage for the winter. All outdoor faucets/spigots should be drained as well and secured with a faucet cover. You will also want to close the shut-off valve on all the pipes leading to the outdoor plumbing. These steps will go a long way in keeping your interior pipes safe from freezing.
Insulate Pipes (Interior)
Insulation is the most important component in winter pipe maintenance. Make sure that all exposed pipes in your home are insulated with foam padding or insulating tape. Exposed pipes are usually found underneath the kitchen and bathroom sink, the basement and sometimes underneath the home. Just because the pipes are inside your house doesn't mean that they are resistant to freezing. There are a number of reasons that interior plumbing might freeze including drafts, poor insulation in the home and cracks in the foundation. Spend some time reviewing the plumbing throughout your home and cover any piping that you can see (and reach).
Run Water
Throughout the winter, make sure that you run water through every valve in your home a few times a week. Running water through the fixtures will help keep the plumbing from freezing. You might also consider a slow drip during extended periods of extreme low temperatures.
Open Cabinets
During the long Edmonton winter, make a habit of leaving open the cabinets beneath the kitchen and bathroom sinks. The warmer air from the home interior will help keep the pipes from freezing.
Mindful Holiday Use
The holidays can take a toll on your drains, disposal and pipes. Cooking favorite dishes for friends and family will often lead to clogged plumbing. Excess grease and oil coupled with cold pipes can cause a clog that is difficult to fix. Never dispose of grease and oil in the sink – and be careful of plates and cookware with too much residual grease. Make sure to wipe off the excess with a cloth before washing them in the sink.
Clean Drains
Keep your plumbing clog-free by cleaning with an eco-friendly mixture of salt and boiling water. Salt is a natural, non-toxic pipe and fixture cleaner – and also far less expensive than commercial options. Simply pour ½ cup of salt into one gallon of water and heat the mixture to just under boiling. Pour the entire contents into the sink and it will help remove grime, grease buildup, lingering odors and bacteria. Try to do this at least once a week throughout the holidays to keep your plumbing free from clogs.
With a forecast predicting even lower temperatures in the next two weeks, we wish our Edmonton neighbors a smooth, comfortable transition into winter. We hope that your plumbing remains in great condition throughout the season, but if you ever need professional help – Always Plumbing and Heating is just a phone call away. Contact us 24/7 for emergency repairs at 780-489-8118.
---
Book your furnace and boiler maintenance inspection today for efficient home heating in Edmonton. Call Always Plumbing at 780-489-8118 or contact us online .
Contact Us