We Are The Top Air Conditioning and Heating Company of 2019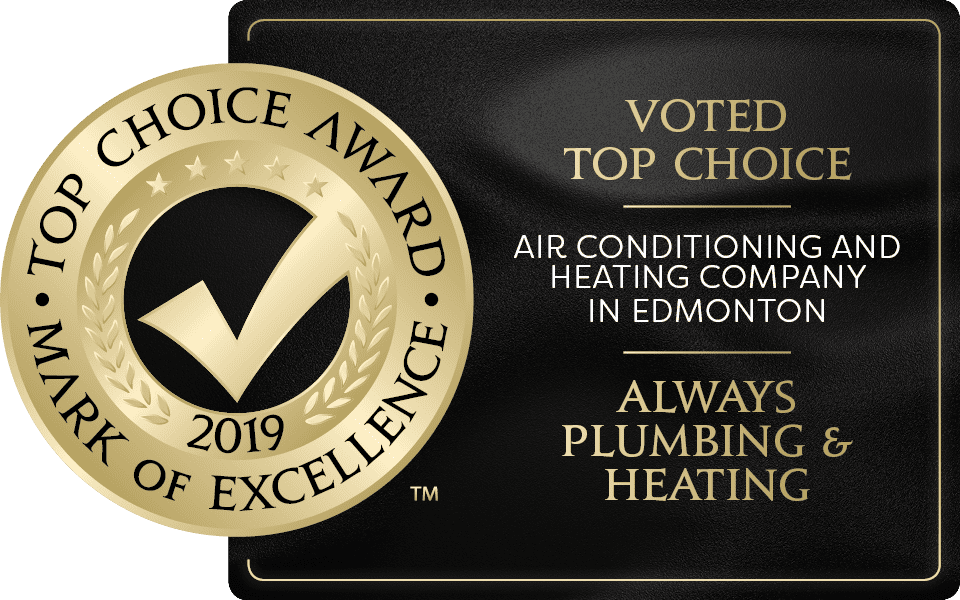 Always Plumbing & Heating Wins Top Air Conditioning and Heating Company of 2019
We are humbled and honoured to have been nominated by our customers for the top choice award for the category of Top Air Conditioning and Heating Company of 2019.
After a lengthy voting process, we found out we were selected as the winner of the 2019 Top Heating & Air Conditioning company in Edmonton & area! Without our amazing customers, this would not have been possible.
The Top Choice award is one of the most prestigious and reputable business awards in North America and exists to provide the absolute best choices to consumers. For us, this means that we will be connected with more great customers (like yourself) who are looking for a trusted heating and air conditioning service company.
Always Plumbing & Heating offers all heating, air conditioning & plumbing services, from repairs and maintenance to installation of new furnaces, A/C's, hot water tanks, boilers and more. With every service, we offer a plumbing & HVAC inspection for the entire home FREE of charge, giving you peace of mind service and saving you money on future maintenance costs.
Thank you again Edmonton and area for voting for Always Plumbing & Heating as your Top Heating and Air Conditioning company of 2019!
Call us at 780-489-8118 for all of your AC, Heating and Plumbing needs!
Contact Us