Tips for a Healthy Winter IAQ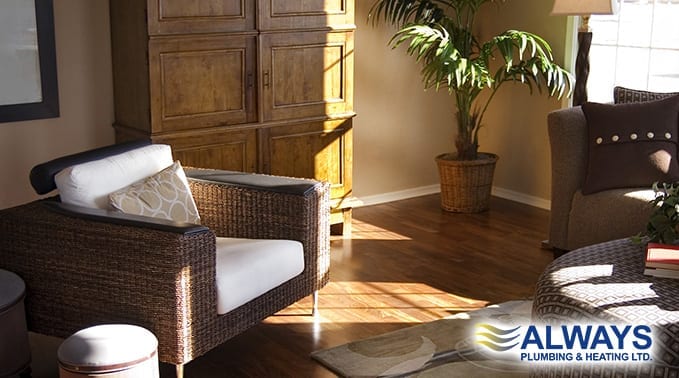 It's no surprise that indoor air quality gets worse during winter. People stay indoors where pollutants can be 2-10 times as bad as the air outside. And in an effort to save energy and feel warmer, homeowners often seal air leaks and improve insulation for the cold weather.
While sealing in conditioned air will help with savings and efficiency, without proper ventilation it will also trap hazardous indoor air pollutants that can trigger asthma, allergies, headaches, sicknesses, fatigue, and respiratory problems.
Dangerous Flu Outbreak
2018 might be the worst year on record for flu outbreaks. According to the Washington Post:
Nationally, as of mid-December, at least 106 people had died of the infectious disease. In addition, states across the country are reporting higher-than-average flu-related hospitalizations and emergency room visits. Hospitalization rates are highest among people older than 50 and children younger than 5.
The situation is no better, and may indeed be worse, in Canada. According to the weekly FluWatch report from the Public Health Agency of Canada:
Overall, influenza activity in Canada remains high.
Most indicators remain in the higher range of expected levels for this time of year.
Influenza B began circulating much earlier than usual this season. The number of influenza B detections remains substantially greater this season compared to previous years.
To date this season, the majority of lab confirmations, hospitalizations and deaths have been among adults 65 years of age and older.
Flu shots may not prevent the flu entirely, but even if you do come down with the illness, the symptoms will be less severe. There is also evidence that shows how yearly flu shots provide cumulative protection. We highly recommend getting the flu shot every year… for you and everybody around you as well.
There are many other health hazards associated with poor indoor air quality. Here are some tips for a healthy indoor air quality this winter.
6 Tips for Improving Winter Indoor Air Quality
1. Source Identification and Control
Perhaps the best way to improve your indoor air quality is by locating and removing the source of the contamination. You may have many things in your home that are causing or aggravating health issues. Improve indoor air quality by eliminating or reducing the pollution source.
Take some time to look at the shelves and in the cabinets of your home. Use the Household Products Database from the U.S. Department of Health & Human Services to research the products in your home, find out what's in them, and learn about potential health effects. Either buy non-toxic, non-VOC products or make your own, DIY style.
2. Exhaust Fans
Spot ventilation is normally found in your kitchens and bathrooms in the form of exhaust fans.
All of your bathrooms and kitchens should have working exhaust fans to refresh the air and get rid of unwanted moisture. Exhaust fans can also vent away aerosol and cleaning product vapors that are damaging to your health. The exhaust fan should be ducted through the roof.
Always increase ventilation when using products or appliances that may release contaminants into the air. Follow manufacturer instructions carefully. Do not use an outdoor-use only product indoors.
3. Central Ventilation
In addition to exhaust fans (also known as "spot ventilation"), we highly recommend a balanced, central ventilation system. A professional HVAC technician can hook up heat recovery ventilators (HRVs) or energy recovery ventilators (ERVs) so you can refresh the indoor air without the associated energy losses.
4. Humidification
Humidity levels have a lot to do with your home's air quality and pest control management. For instance, high humidity fosters mold growth and attracts unwanted intruders. The ideal humidity level in your home should be somewhere between 30 and 50 percent.
Contact a professional HVAC company about whole-home humidification solutions. Depending on the humidity of your home, the central air system will either introduce or remove moisture.
5. Clean Air Filter
Central HVAC systems not only provide conditioned air to your indoor spaces, they also pass your indoor air through a filter to pick up any large airborne particulates. When the filters get dirty, it can impede airflow and worsen indoor air quality. For the sake of your health and heating and air conditioning system, remember to periodically change your air filter.
We recommend checking your air filter every 30 days and waiting no longer than 90 days to clean or replace it. Make sure you have plenty of air filter replacement on hand and write the date of replacement on the filter every time you change it out. This way, you know exactly how long the air filter has been in use.
6. Active Air Purification
Speak with an HVAC expert about air purifiers that can be installed directly into your existing central air system. In addition ventilation, source control, and humidification, you may want to take a more active approach. Many air purifiers, such as UV lights and air scrubbers actually attack and kill living organisms.
Other Tips for Improving Indoor Air Quality:
Store paints and other similar materials in a garage, shed, or other non-living area.
Properly dispose of unused or expired containers. Buy limited quantities.
Follow all manufacturer labels and instructions.
Test for radon and other dangerous pollutants.
Increase ventilation when using products that emit VOCs, such as cleaning products.
Use low-impact, integrated pest management to reduce the need for chemical herbicides and pesticides.
Purchase more houseplants, especially these NASA-approved air filtering plants.
Reduce mold and dust mites by controlling moisture levels, cleaning regularly, and using anti-allergy linens and other products.
Keep toxic and dangerous materials out of reach of children and pets.
Regularly vacuum, dust, and clean the home.
Hard materials for flooring and furniture are easier to keep clean.
Avoid products with toxic fire retardants, which can offgas chemicals into your home for years. Choose natural fire-resistant materials instead.
Contact Always Plumbing & Heating for to schedule your indoor air quality consultation. Call us at 780-489-8118 (Edmonton) or 587-601-1253 (Fort McMurray) to schedule an appointment today!
Contact Us