Summer Outdoor Plumbing Notes for Edmonton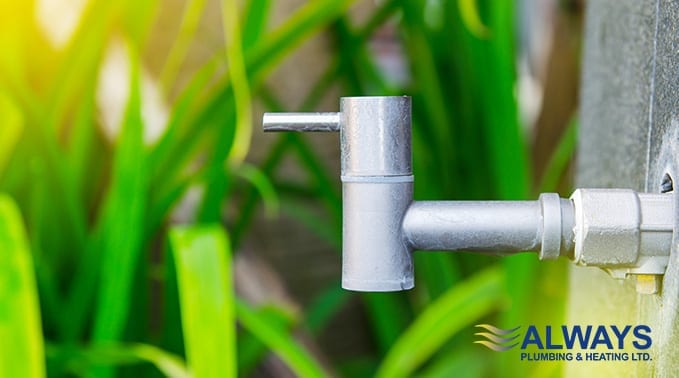 While Edmonton winters bring major challenges to plumbing systems, the summer season comes with its own unique set of problems. With kids home from school and extended holidays all over Canada, homeowners will be using their plumbing more often. This is especially true of outdoor water use with lawns, gardens, pools and backyard recreational toys all requiring extra H2O. All of this additional plumbing use can add wear on your system and raise utility bills. The experts at Always Plumbing & Heating have complied a few important procedure and maintenance tips for the extra plumbing needs of your household this summer.
Outdoor Water Faucets: A good way to start the outdoor watering season is to inspect all your faucets before using them. Our long winter may have damaged a faucet as freezing temperatures can wreak havoc on any outdoor feature that uses water. Check your outdoor faucets (also referred to as a spigot or hose bib) by running them to make sure that there are no areas that are leaking. A leaky spigot can waste as much as 757 liters of water a month. (Neglecting to cover them over the winter can cause them to warp or crack – and affect connected pipes in your plumbing system.) If you find a leak and there are no cracks or visible damage to the faucet, replacing the washer might be all that is required. Don't use the feature until you have repaired the leak or have it assessed by a plumbing technician.
Additional Faucets: Do you have enough outdoor faucets to accommodate all your yard/family needs? Is there a faucet/spigot easily accessed in both the front and back of the home? Summer is an ideal time to review your outdoor plumbing fixtures and figure out whether or not new installations are necessary. An experienced plumber can help assess your needs and offer several different options for faucet locations and installation.
Troubleshooting a Non-Functioning Spigot
Hoses: If your garden and soaker hoses were not stored properly over the winter, they may have been compromised by the cold weather as well. Hoses need to be drained of water and stored in a safe, dry area in the off-season. Any water left inside a garden or soaker hose can freeze and expand – cracking the material (rubber, vinyl or sometimes a combination of the two). Storing them improperly and general wear can cause leaks as well. Test all your hoses before using them for the season. Replace any hose that shows signs of a leak.
Automatic Sprinklers: If you have an automatic sprinkler system in your yard, it is important that all the heads are working properly. If you have a sprinkler head that is cracked or broken, it might be leaking water or not producing water at all. This can compromise your lawn and waste a lot of water. Replacing or cleaning the head might be all that is required – and both endeavors are simple enough to do on your own. Replacement heads can be found at most hardware and home improvement stores.
Water Pressure: Is the water flow in your home sometimes uneven? Perhaps there is banging within your pipes when you turn on the water? You might have a pressure problem. Most homeowners assume that every house has the same level, but that isn't always the case. The optimum psi (pounds per square inch) for a home in Edmonton is 80, with any pressure reading above that being harmful to your plumbing system. You can check the pressure by getting a water gauge meter at the local hardware or home improvement store. If you find that the pressure is too high, consider having a pressure regulator installed. A regulator will help absorb the high pressure and covert the flow into a safe 80 psi.
Take advantage of the summer break and review your outdoor plumbing issues. If you require assistance, the plumbing experts at Always can help with all your fixture repair or installation needs. Contact us if you have questions about adding additional fixtures or have repair or water pressure concerns. Call 780-489-8118 (Edmonton) or 587-601-1253 (Fort McMurray) to schedule an appointment today!
Related Blogs:
Summer Water Safety for Edmonton
How to Find Hidden Water Leaks
---
Call Always Plumbing & Heating at 780-489-8118 or contact us online today to discuss your water quality options for your new home.
Contact Us