Proper Smoke and CO Detector Placement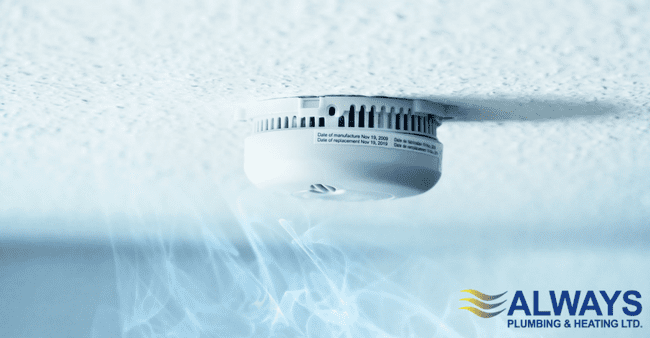 Having smoke detectors installed in your Edmonton home is not a luxury. They are essential devices that every household needs to ensure safety from smoke and fire. But simply having smoke detectors in your home isn't enough, they must be installed properly and maintained regularly in order for them to work efficiently. The same holds true for CO (carbon monoxide) detectors which are equally important if your home contains one or more combustion appliance. CO is an odorless, tasteless and undetectable gas that can sicken and even kill every living thing in your home. Knowing where to place the detectors throughout the house and when to test them will help keep your home and family safe. Always Plumbing & Heating, a leader in indoor air quality, has compiled a list for proper smoke and CO detector placement and service.
Follow these guidelines (approved by the NFPA) for maximum efficiency:
Smoke Detectors
Install smoke detectors in every level of the home – including the basement (though few codes require one in the attic).
Install smoke detectors inside every bedroom – and outside every bedroom door. This includes storage rooms that are also used as guest rooms and children's play rooms.
Smoke detectors need to be installed at least 10 feet away from the kitchen (or cooking/heating appliances that might generate smoke). This distance will help minimize the false alarms when smoke comes from the kitchen. Smoke
Smoke rises – so always install smoke detectors on ceilings or on walls near the ceiling. A wall-mounted detector should be positioned a foot or less from the ceiling.
Keep smoke detectors away from windows, air ducts, doors and other areas where there might be a draft. A draft might interfere with the operation.
There are two types of smoke detectors: ionization and photoelectric.
Ionization smoke detectors can detect small amounts of smoke produced by fires that flame quickly. (These are the kind usually set off by kitchen fires).
Photoelectric smoke detectors respond quickly to fires in their early stages; smoldering smoke that infiltrates a space before the source becomes a fire.
Ionization VS Photoelectric Smoke Alarms
Dual sensor detectors contain both technologies (ionization and photoelectric) so they can alert a homeowner regardless of the type of fire.
Test all of your detectors once a month to ensure that the battery is secure and working properly.
If you ever disconnect a detector because of a false alarm, make sure that you reconnect it that same day. Many people forget to reconnect their devices; compromising their homes and families.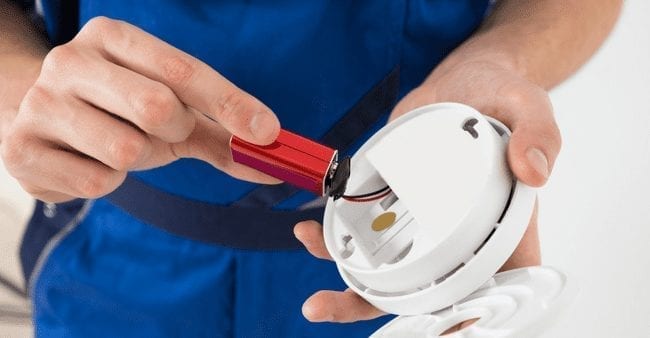 CO Detectors
CO detectors should also be placed on every floor. Unless your basement contains a combustion appliance, alarm placement is not necessary.
Install CO detectors in every bedroom and at least one outside, close the bedrooms (or the adult bedroom).
If you have a room above a garage, place a detector somewhere inside that room.
Don't place CO detectors near fuel-burning appliances, as they give off a small amount of CO when they start.
Install CO detectors at least five feet from the floor, but always follow the manufacturer's instructions on proper mounting.
Keep CO detectors away from kitchens and bathrooms where a high degree of heat or humidity is produced. Both of these elements will affect the performance of the alarms.
Keep CO detectors away from direct sunlight and anywhere cool air might be factor (including AC vents, fans, windows or doors).
Battery-operated CO detectors need their batteries changed fairly frequently. Check the batteries of your CO alarms once a month.
CO detectors are NOT also smoke detectors. Many people make this mistake. However, there are dual CO/Smoke alarms that are available.
Interconnected alarms (of both designs) are "more likely" to operate and alert the occupants.
According to the Canadian Red Cross, two out of three Canadians say that they haven't taken the proper steps to prepare for a disaster. Yet there are about 24,000 house fires every year in Canada. Two out of three Canadians say that they haven't taken the proper steps to prepare for a disaster. Don't become a statistic. Keep your home and family safe with proper smoke and CO detector Placement throughout your home. If you have any further questions about alarm placement or IAQ solutions, call us at 780-489-8118 to schedule an appointment with one of our technicians.
---
To request a service appointment, give us a call at 780-489-8118 or contact us online.
Contact Us