Smart Thermostats to Maximize Your Home Comfort and Energy Savings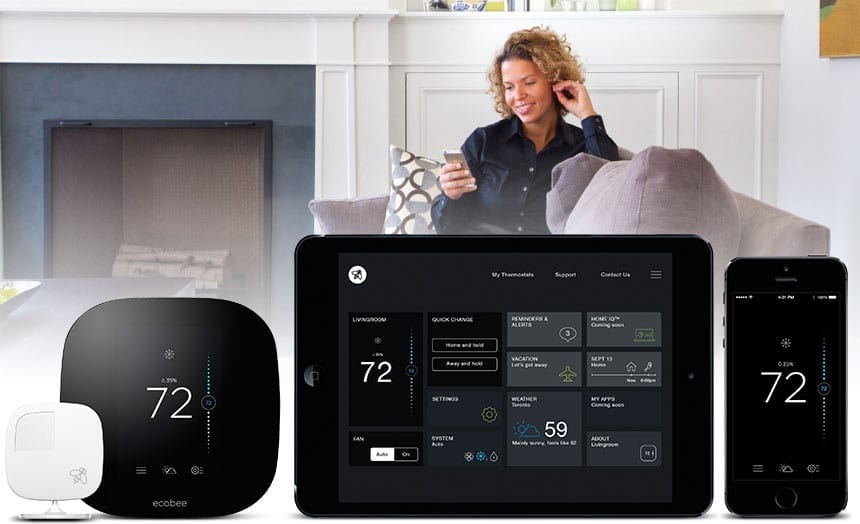 In March 2016, a report by the Fraser Institute said the rising cost of electricity is increasing energy poverty in Canada. Over one million households are spending more than 10% of their incomes solely on electricity and natural gas. As you may already know, the average home's heating and cooling costs account for more than 60% of the home's energy bill, making it the largest household expense. One way to save big on your utility bill is to invest in smart home technology. Smart thermostats offer total control of your home comfort while providing you with significant energy cost savings of 20% to 30%.
Energy Efficient Benefits with Cutting-Edge Technology
As a homeowner, you should never have to compromise on having a warm and cozy home or a comfortably cool one in order to see energy savings. By switching your dated thermostat to a more innovative and energy efficient system like an ecobee or Nest, you'll instantly benefit from the following:
Daily Energy Savings – A smart thermostat allows you to program a different range of temperatures during the week and weekend to suit your household's activities. For example, you can heat or cool your home right before you return home rather than having your furnace or AC run all day. By doing so, you'll be able to see an increase in energy savings – up to $145 a year!
Remote Access – By connecting to your smart thermostat through a Wi-Fi network, you are able to control your device from anywhere, anytime! All you have to do is login to the ecobee or Nest app with an Internet connection and you will be able to make adjustments to your thermostat in real time.
Useful Features – Smart thermostats are designed to notify you through alerts and reminders when your furnace or air conditioner requires maintenance, such as an air filter change. You can also monitor your energy consumption on a weekly basis, keeping an eye on your usage patterns to see where you are using more and/or less energy.
There is nothing worse than coming home to a broken thermostat and therefore, a scorching hot home in the summertime. Always Plumbing & Heating provides the best in home HVAC solutions, as well as skilled plumbing repairs in Edmonton. From smart thermostat installations and repairs to furnace, air conditioner and boiler servicing in Edmonton, our licensed technicians are among the best in the industry and provide quality service and support every time.
Having problems with your furnace or air conditioning? It could be your thermostat that is malfunctioning, and fixing the thermostat is much less costly than replacing your entire HVAC system. Call Always Plumbing at 780-489-8118 or contact us online to schedule a service call.
Contact Us