Holiday Plumbing Tips for Edmonton Households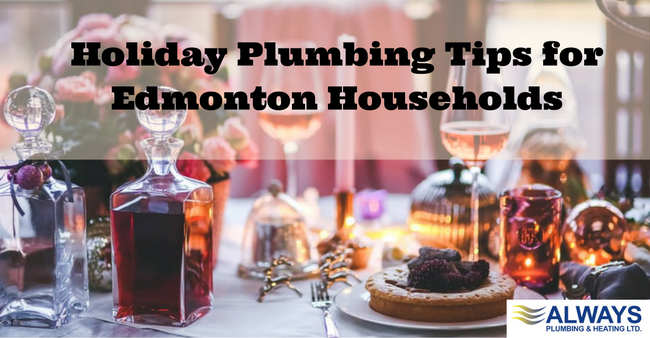 With Christmas and Boxing Day almost a month away, Edmonton households are getting ready for their seasonal celebrations. Decorating and menu-planning are just a few of the essential steps in preparing for the rush of friends and family. But before the annual gatherings begin, consider taking precautions to keep your plumbing free from the typical post-holiday problems.
All those parties and dinners can take a toll on kitchen sinks – and added houseguests can create a strain on water usage.
Because plumbing problems generally spike 50% after the holidays, it makes sense to take action before the festivities begin. The professionals at Always Plumbing & Heating in Edmonton have compiled a list of important tips for ensuring your pipes stay free from blockage and other expensive repair issues.
Watch the Grease: Many of our most favorite dishes create some kind of grease or oil residue during cooking. Grease and oil can help cause severe blockage in your plumbing system if you aren't careful. Make sure that all cookware and dishes are wiped free of grease and oil before they are washed in the sink. Also be sure to use cold water with the disposal when using it to grind food waste with grease or oil residue.
Food Waste Removal: Give your garbage disposal a break and try to compost all the food waste you would normally throw into the sink. Add it to the pile of waste that is not acceptable for disposal and you'll end up with a vibrant soil for your garden or lawn. If you don't compost, make sure that you have a plastic trash bag next to the sink to catch all of the food waste.
Disposal Use: If you must use your disposal for food waste, be mindful of the kinds of food that are inappropriate. Keep all fibrous or hard organic materials away from the disposal as they can clog and even cause damage to the unit. Some of the worst culprits include: potatoes, celery, onions, lettuce, bones, rise, egg shells, cigarette butts and the aforementioned grease, oil (and fat).
Disposal Cleaning: Keep the garbage disposal clean throughout the holidays by pouring a small amount of dish soap into the opening and run it with some cold water. Throw in some lemon slices to add a clean scent.
Watch the Kids: When there are large groups of people over for the holidays, watch the kids to ensure they don't use the disposal as a garbage can. Keep a trash can beside the kitchen sink to encourage everyone to throw their garbage/food waste into the proper receptacle.
Toilet Etiquette: The only things that should be flushed down a toilet are toilet paper and human waste. If you are hosting guests for a party or an extended stay, there might be a few people who aren't good at following this rule (especially kids). Make sure that guests are made aware of certain products that aren't safe to flush. The main culprits that stop up plumbing are: flushable wipes, sanitary napkins, cotton balls, paper towels, tissues, dental floss and cleansing pads.
Shower Schedule: If you have guests for the holiday, try to have everyone wait 15-20 minutes between showers. This will help ensure enough time for the hot water to replenish, but more importantly it will allow the drains to clear properly.
Plumbing Problems: Try to address any plumbing problems in advance, well before any guests arrive. You don't want to keep anyone inconvenienced while a plumbing technician is working on a repair. You also don't want to be put on a list for repair work after the holidays – as a blockage or leak while guests are present could ruin the celebration.
We hope that you and your family have a stress-free holiday season. By taking a few precautions with your plumbing, you should also enjoy a blockage-free celebration as well. But if anything does happen to your plumbing system during the festivities, don't hesitate to give us a call! The technicians at Always Plumbing & Heating are available 24/7 for any emergencies you might experience. Call us any time at 780-489-8118 for exceptional plumbing service and repair.
Related Blogs:
Winter Plumbing Maintenance in Edmonton
---
To request a service appointment, give us a call at 780-489-8118 or contact us online.
Contact Us