Holiday Home Safety (in 6 Easy Steps)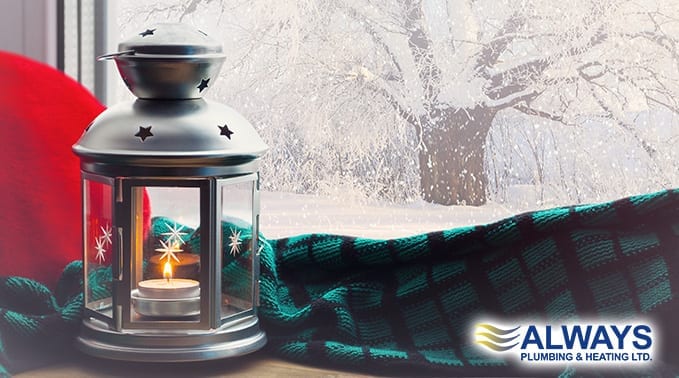 It's that time of year again. Your home is about to be the bustling center of holiday happenings from cooking to celebrations. It may seem like enough to let your home run as usual and hope everything goes smoothly, but there are several ways to ensure your plumbing and appliances successfully survive the extra stress from the holidays. Use these 6 steps from the trusted professionals at Always Plumbing & Heating to get your home holiday-ready. You can rest easy and enjoy the celebration knowing that your home has been prepped ahead of time!
Step 1: Clean up your doorway and walkways.
Winter in Edmonton can make driveways and walkways very icy and unsafe. Make sure there is a clean, salted pathway to your door so that your guests do not have to worry about slipping on ice. If guests are arriving at night, have the walkways well lit as well.
Step 2: Make a designated space for coats and handbags in a room, on a coat rack, or in a coat closet.
Guests will be coming in from the cold with gifts, coats, food, bags, etc. To make it easier on them (and you), have a designated place to store their items out of the way. This will also help keep sitting spaces free and ensure guests do not place their belongings anywhere that might block airflow or create a fire hazard.
Step 3: Clean shower drains and have a drain screen in place for each of them.
Shower drains will be subjected to more hair and soap scum with additional people using the shower. Test each drain and fixture for free-flowing water and drainage. If any drain a little slower than normal, or not at all, use a plunger or drain snake to clean them ahead of time.
If it cannot be unclogged with an at-home method, call Always Heating & Plumbing for a professional drain cleaning service. Waiting until after the holidays will only exacerbate the problem – and your guests will have an uncomfortable shower experience.
Step 4: Cook as much as possible beforehand.
Not only will this save you stress, it will help regulate the temperature in your home. The added number of people coupled with constant oven use can throw your thermostat off and cause your home to be warmer than normal. Limiting oven use the day of will help to ensure a comfortable and consistent temperature throughout your home.
Step 5: Change your furnace filter.
Changing your furnace filter will make a significant difference in the efficiency of your furnace and your home's indoor air quality. Indoor air quality decreases as your furnace filter becomes older and clogged with dust. Having a new air filter will help to ensure clean, fresh air throughout the holiday season.
Step 6: Clean your garbage disposal.
Your garbage disposal is one of the most popular appliances in your home during the holiday season. There are several methods to clean it – from baking soda and vinegar to professional cleaning solutions. Before guests arrive, give it a thorough cleaning to make sure it is ready for the extra work.
Don't add extra stress to your plate this holiday season! While prepping your home for the holidays, if you notice anything unusual with your plumbing or heating, call Always Plumbing & Heating. We offer same day service and our technicians are available 24/7. No matter the day or time, our trusted professionals are here to help ensure your holidays go as smoothly as possible! Call us at 780-489-8118 (Edmonton) or 587-601-1253 (Fort McMurray) to schedule an appointment today!
Contact Us