Halloween Safety Tips (for Edmonton Homes)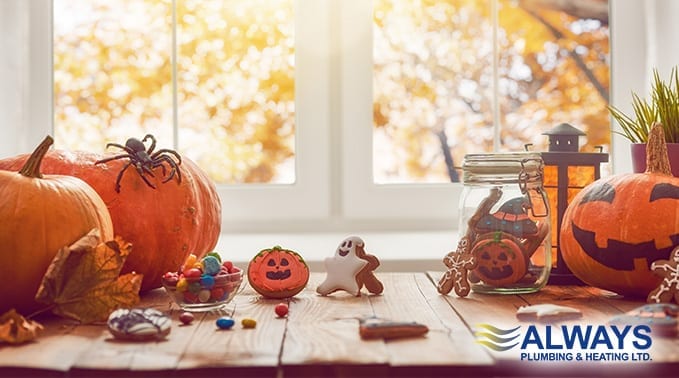 Another Edmonton October means that soon houses will be decorated with all sorts of spooky, festive decorations. In addition to traditional pumpkins and paper cutouts; elaborate blow up figures, animatronic gizmos, video projections and light shows have become modern staples. With all this new technology, it's more important than ever to take safety precautions for your home and your household. Always Plumbing & Heating enjoys the holidays and wants to ensure that everyone keeps safe throughout the next few months of festivities. Before your household gets ready to celebrate, read through our list of essential Halloween safety tips to ensure less tricks and more treats.
Pumpkin Safety
Always knows a little bit about proper pumpkin etiquette, especially when it concerns your plumbing. Every year we like to remind our Edmonton neighbors about the dangers of improper waste disposal – especially pumpkin guts. In October our plumbers keep busy dealing with pumpkin and holiday-related clogs. Make sure that when you are making those jack-o-lanterns that you place the seeds and organic material in your compost pile – or the garbage. Never put pumpkin debris in your disposal, as the fibrous material can harm both the disposal and your pipes. When carving your pumpkin, try using a pumpkin carving kit with safety blades that are serrated but not sharp. These tools make carving much easier and are less likely to cut or jab little hands. Also, skip the wax candles and place flameless candles inside your jack-o-lantern. Flames can burn the inside of the pumpkin – and are also a fire hazard. The flameless designs won't heat the interior (which can shorten the life) and will last much longer than tea lights.
Plumbing Precautions
Make sure that all the little ghosts and goblins keep aware of these additional plumbing precautions. Candy, candy wrappers, used make-up and cotton balls should not be thrown into the disposal, toilet or sink. The clogged toilet is another recurring problem our plumbers face every year. All trash should be disposed of in a trash can – especially cotton balls or Kleenex (sometimes used for applying or wiping off make-up). If you are hosting a Halloween party this year, make trash cans easily accessible for your guests. If there's room, keep one out in the kitchen, one out in the dining room and all the bathrooms. This will help remind guests to throw away all their trash in the proper receptacle – not the plumbing!
Electrical Safety
Decorations have become much more elaborate in the past decade. Giant inflatables and mechanical figures that move have become must-have items for Canadian homes. If your yard has several electrical components this year, be mindful of the safety hazards that they present. Keep extension cords away from sidewalks and places where there will be foot traffic. Moving decorations should be placed several feet away from the sidewalk – and safely away from trees, bushes and other objects that might come into contact with it. If you are installing outdoor lights, make sure that they are marked on the box specifically for outdoor use. Outdoor lights are weather proof and more durable than designs created for interior use.
Halloween Safety Tips from the Canadian Red Cross
Take the time to celebrate the safe way – and keep your little (and big) monsters away from harm during the creepiest month of the year. If you find that you need our services, even after taking precautions, we can assist with any plumbing problem. When goblins clog your sink or toilet, call the plumbing experts at 780-489-8118 (Edmonton) or 587-601-1253 (Fort McMurray).
Related Blogs:
Green Plumbing Tips for Edmonton Homes
---
To request a service appointment, give us a call at 780-489-8118 or contact us online.
Contact Us