Game Day Plumbing Tips for Your Edmonton Home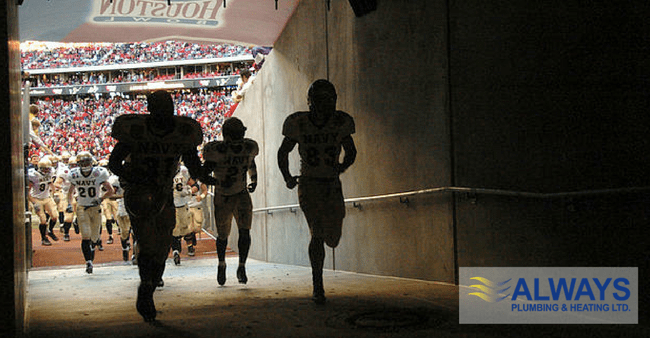 Are you planning a big Super Bowl® party this weekend? Lots of Edmonton homes will be filled with fans gathering to cheer on their favorite team – and eat their favorite party foods. While the talk around this year's game seems to be focused more on the American ads that will play during the telecast, it hasn't diminished the enthusiasm for the game itself. The most watched broadcast in the country (18 million Canadians watched at least part of Super Bowl 50) seems to be more popular than ever. Last year twice as many fans tuned in to watch the Super Bowl than they did for the Grey Cup.*
More than likely you or someone you know will be throwing a big party for game day. But is your plumbing system prepared? While the Patriots and the Falcons get ready for their big showdown, the Always Plumbing & Heating technicians prepare for the Monday after the game – a busy one for the plumbing industry. All-day parties filled with favorite snacks and comfort foods contribute to blockages while a large guest list can exacerbate small fixture problems. This year, while you prepare for the big game, take some time to ensure your plumbing system isn't compromised by the revelry.
Follow these tips for a clog-free Super Bowl Weekend:
Check all the drains in the sinks and tubs for signs of slow drainage. If you are hosting guests for the weekend, you will want to fix any drainage issues before they arrive.
Attend to any fixture leaks that might be worsened by continuous use throughout the weekend.
Keep your guests from using the toilet as a trash can. Add an additional waste basket to the bathroom and remove any paper products that aren't flushable.
Learn how to use the shut-off valve to your toilet in case there is an emergency.
Make sure that you keep a plunger close to the toilet. If you experience a clog that you can't fix, our plumbers are available 24/7.
Add a cup of vinegar to the bottom of your dishwasher and run it while it is empty. This will ensure the unit and the drain lines are clean.
Be aware of the organic material that you put down the garbage disposal. All fibrous food, fatty food, scraps and grease should be disposed of in a trash can – or compost pile. And never put anything in the sink that is non-organic.
What Not to Put in Your Garbage Disposal
Always wipe down plates and dishes that contain excessive grease before washing them in the sink.
Add an additional trash can in the kitchen, next the sink, to encourage guests to keep most of their food waste out of the sink.
Consider making dishes that won't require a lot of post clean-up. Fun finger foods, vegetable plates, sandwiches and soups are simple and easy-to-manage favorites.
Need some inspiration for Super Bowl party food? Our friends at All Recipes have some crowd-pleasing recipes for new and old favorites.
Always Plumbing & Heating hopes that your Super Bowl gathering is a raucous and clog-free one. But if you happen to experience any problems with your plumbing system on game day, or immediately after, don't hesitate to call our emergency plumbers! We are on the job 24 hours a day and can help with any plumbing repair or service need. Call us any time at 780-489-8118 to schedule a repair or report an emergency.
Related Blogs:
Winter Plumbing Maintenance in Edmonton
To request a service appointment, give us a call at 780-489-8118 or contact us online.
Contact Us