Essential Gas Furnace Safety Tips To Stay Safe For Mid-Winter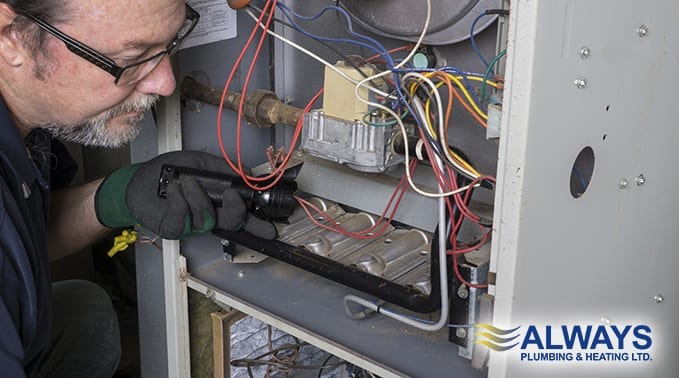 As we find ourselves in the midst of the coldest winter months, many of us rely on our natural gas furnaces to help keep our families safe, warm and cozy. While this heating system is a dependable way to heat our homes, there are some simple precautions you can follow to keep every furnace operating safely and correctly with maximum efficiency. Precautions that can also help to avoid potential future issues in your home that can be dangerous and expensive to repair. Check out our easy furnace safety tips below:
Furnace Safety Tip #1 – Inspect Or Change Your Air Filter
It's important to regularly change out your furnace air filter. A clean furnace air filter helps your furnace work with greater airflow efficiency and prevents the circulation of dust in your home. Dirty furnace filters cause all kinds of problems that are totally preventable, including efficiency, safety and performance issues that can ultimately end in furnace failure. Change your filter every 1-3 months during the winter when your furnace is getting the most use.
Tip #2 – Keep The Surrounding Area Clear Around The Gas Furnace
To minimize the chance of a fire and make sure your furnace is safe for use, keep the areas around your furnace free of clutter. Flammable items like paper, rags, wood scraps, and other flammable liquids should always be kept at a distance and never placed near the furnace.
Tip #3 – Have Your Annual Furnace Maintenance
Have your furnace inspected every year by one of our professional HVAC technicians at Always Plumbing & Heating. An annual check-up to your furnace is vital to ensure your system is working correctly, efficiently and safely. During an annual inspection, our professional and licensed technicians will check for other potential issues like carbon monoxide leaks or issues that could lead to a safety hazard.
Tip #4 – Check Carbon Monoxide Detectors For Gas Leaks
One of the biggest threats to your home and furnace is a carbon monoxide leak. A colorless, odorless gas, you cannot detect high levels on its own. Carbon monoxide can cause flu-like symptoms, confusion and in high-levels even death. Your annual inspection will ensure you don't have dangerous carbon monoxide levels in your home.
Call us today at Always Plumbing & Heating for all your furnace needs. Our technicians are always available to perform your annual furnace inspection, and also help with any furnace repairs you need right away. We provide 24/7 outstanding service all 52 weeks of the year. If you are having an issue with your furnace, call us today and we will immediately dispatch a technician to your home – even on holidays! All of our repairs are backed by 100% Customer Satisfaction Guarantee, but you can rest assured our furnace installations and repairs will be done right the first time. Call us today at 780-489-8118.
Contact Us