What to do when there is Flood Damage to your HVAC System in Edmonton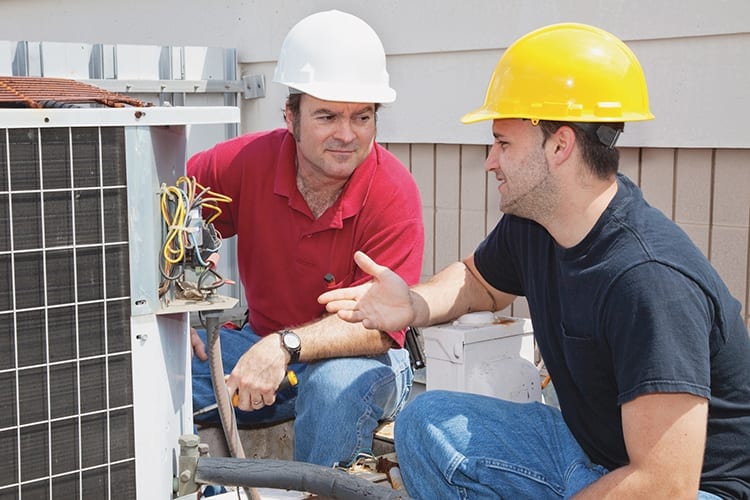 It seems like not a month goes by that floodwaters don't ravage a community somewhere in Canada. And according to meteorologists, the unstable weather creating these floods is only going to get worse with global warming.
So what should you do if floodwater reaches your home or commercial HVAC system in Edmonton?
The Air-Conditioning, Heating and Refrigeration Institute (AHRI) recommends you turn off the power and call a professional plumber in Edmonton immediately to inspect your HVAC system. A professional is likely to see things you might miss. Standing water in contact with your ductwork, AC, furnace or heat pumps is very likely to have some kind of negative effect—at best, a thorough inspection and cleaning may be all that's required; at worst, complete replacement may be called for.
Ductwork. Even slightly damp duct insulation is not salvageable because it is impossible to decontaminate—it needs to be replaced. Cutting corners in this regard could lead to mould, mildew and health issues. A plumber in Edmonton will clean, dry and disinfect your ductwork, update affected insulation with newer, more energy-efficient types and ensure joints are well sealed.
Heat pumps and AC. Indoor air conditioning units are not designed to be water-resistant. If your indoor units have been underwater for any length of time, they will most likely need to be replaced. Outdoor units are weather-resistant, but not designed to withstand standing water. Have your outdoor home or commercial HVAC system in Edmonton inspected by a professional plumber to determine what components need to be replaced. If your indoor or outdoor components have shifted even the slightest amount because of flooding, the refrigerant system may be compromised and need to be replaced.
Furnaces. It goes without saying that furnaces are designed to stay dry. The slightest amount of water in contact with your furnace's circuitry and filters may spell trouble. The outside may look clean and dry, but any moisture inside can quickly corrode delicate valves and controls, possibly causing short circuits and electrical fires, or, at best, reliability issues. Play it safe! If you suspect water has reached your furnace, call an Edmonton plumber and put your worries to rest.
In need of HVAC repair or replacement in Edmonton? Contact us at Always Plumbing with all your questions. At Always Plumbing we've been in business over 16 years—that's a lot of experience! And like our name says, we're open 24/7 to handle all your emergencies.
If it's HVAC replacement in Edmonton you are considering, we have a host of systems available that can save you 25 – 40% off your utility bill. Call us today!
Contact Us