DIY AC Window Unit Maintenance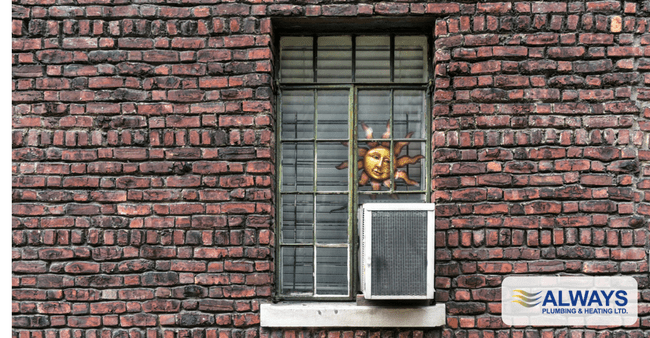 While the majority of modern Edmonton homes have HVAC systems with both heating and cooling units, window AC units are still a popular option for older homes and apartments. If you own an AC window unit (or single room air conditioner), it is important to have professional maintenance performed once a year. Just like a central air system, yearly maintenance ensures it keeps running at maximum performance.
It is also essential that you perform regular DIY cleaning and maintenance in addition to professional service. Taking active steps to keep your system running smoothly helps avoid expensive repairs and ensures that it runs for years to come. Always Plumbing & Heating wants to make sure that our Edmonton neighbors are able to keep their units running at peak performance, so we've come up with a list of important DIY maintenance tips for your AC window unit.
Clean the Air Filter – One of the most important things that a homeowner can do to help with their AC efficiency is to change/clean the air filter consistently. On most window units, the air filter can be accessed by removing the front panel. Take out the filter and clean it with warm water and white vinegar. Let it dry completely before reinstalling it. If the filter contains tears or is damaged in any way, buy a replacement filter. A worn filter will not be able to perform properly and put stress on the unit.
Inspect the Unit – If you leave your unit in the window throughout the year and have no cover for it, you'll need to inspect it thoroughly. An exposed unit can invite wasps and bees to nest inside. Edmonton winters are harsh and the extreme weather can also severely damage the coils and internal components. Storing your unit in a safe, dry area throughout the winter is highly recommended. If you are unable to store it, make sure that it is securely covered when not in use.
Clean the Coils – Another important maintenance procedure is cleaning the condenser coils. The coils are essential in removing heat and can make the unit work harder if they are dirty or clogged. You will need to remove the air conditioner cabinet housing to access them. The cabinet housing should be easy to remove; refer to your AC guide for specific directions on removal (which usually requires a screwdriver). Once removed, you can clean them using compressed air or a soft bristle brush and a spray bottle of window cleaner. The coils are easily bent, so make sure that you treat them with care. If the fins are bent they need to be straightened with a fin comb as this will also compromise the air flow.
Check for Ice Buildup – If there is ice buildup on the coils, then you are using the unit improperly. If the temperature outside is colder than the indoor air, ice will form on the coils. Never use an AC window unit unless the outside air is 60 degrees or warmer. This is sometimes a problem in Edmonton during the transitional period in the spring, when temperatures tend to fluctuate from day to day.
Clean the Water Pan – A dirty water pan can cause a musty smell in your unit – and promote the growth of mold. While you have the cabinet housing removed, clean the pan thoroughly with warm water and white vinegar. If there is a buildup of condensation in the pan, there could be a drainage problem. After you have cleaned the unit and have run it for a full cycle, check the pan again. If there is water buildup, there is a drainage problem and the line should be checked by a professional technician.
Related Blogs:
Keeping Your HVAC Warranty Valid
Keep your window AC running efficiently all summer, and for years to come, with annual professional and DIY maintenance. Remember that Always Plumbing & Heating can help with all your AC repair and service needs. Contact us if you need to schedule maintenance or are experiencing problems with your window unit. Our licensed HVAC technicians can help with all types of AC window designs. Call 780-489-8118 to schedule an appointment today!
Call Always Plumbing & Heating at 780-489-8118 or contact us online today to discuss your water quality options for your new home.
Cropped photo courtesy of skeddy in NYC
Contact Us