Save $3,000 on a new furnace and air conditioner. Get better residential plumbing services today.
A (Brief) History of Boilers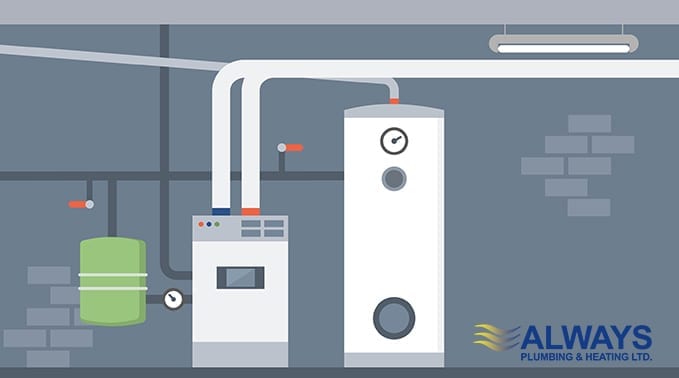 Central heating boilers are a popular alternative to furnaces in Edmonton households. Modern boilers are available in a variety of designs depending on the budget and a home's heating and hot water options. You can also choose from electric, oil and the more conventional gas units. Some people prefer them over more common hot air furnaces as they are generally more efficient, quieter to operate and generate more consistent heat. How much do you know about the boiler that provides heat to your home? Residential boilers have a long and storied history, with the steam-generating designs dating back to late 1700s. Always Plumbing & Heating has complied a brief history of this simple yet ingenious invention that has withstood the test of time.
Late 1700s – early 1800s: The development of the kettle-type boiler; a simple design that featured water placed above a fire box that was boiled into steam.
1867: The invention of the convection boiler, which ushered in the steam-generating industry.
1867: George Babcock and Steven Wilcox were the first people to patent a boiler design. Their version consisted of tubes inside a firebrick-walled structure to create steam.
1891: The Babcock and Wilcox Company was founded in New York City. It manufactured small boilers that used lump coal and were fired by hand.
1891:C. Barber opens the Stirling Boiler Company in Barberton, Ohio. The boilers manufactured at Stirling were much larger than the Babcock and Wilcox designs. They used three drums to circulate the water and steam flow.
1907: Babcock and Wilcox merged their company with Stirling. Their new boiler design, named the H-Type Stirling and able to produce 50,000 pounds of steam an hour, became one of the best-selling boilers of the time.
1912: Other companies had been manufacturing boilers in the late 1800s, but on a smaller scale. Two of them, the Grieve Grate Company and the American Stoker Company, combined to form the Combustion Engineering Company.
Early 1920s: The "tube and tile" boiler design was created. Unlike the original boiler designs, which had firebrick walls requiring no insulation, the tube and tile version added insulation over the fire box for better efficiency.
Late 20s – early 30s: The invention of the flat studded tube and the loose wall constructed boilers led to the development of higher-capacity boilers – including the radiant boiler.
Late 50s – early 60s: The development of the membrane tube wall eliminated the need for refractory (using the fire inside the fire box). This reduced construction costs and speeded up manufacturing. The radiant boiler designs could now produce up to 4,000,000 pounds of steam an hour.
Late 70s – early 80s: Major developments in alternative-burning boilers. The installation of residential units expands, allowing more homeowners an opportunity to use the time-tested technology.
Find Energy Star Boilers in Canada
Always Plumbing & Heating is Edmonton's most trusted resource for boiler installation and maintenance. Contact us when you need professional service assistance or help with a brand new unit. Call 780-489-8118 (Edmonton) or 587-601-1253 (Fort McMurray) to schedule an appointment today!
Related Blogs: