8 Tips On How To Create Your Dream Outdoor Kitchen This Summer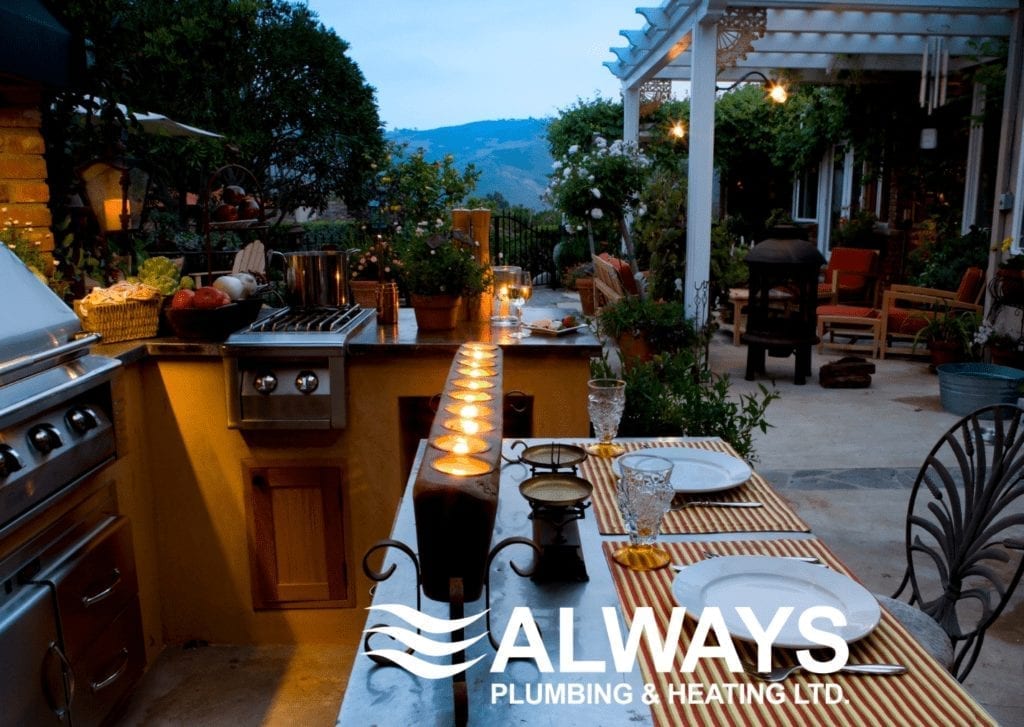 Dreaming of that Perfect Outdoor Kitchen?
For many people, having an outdoor BBQ kitchen means more time outdoors and heartwarming family memories. It's easy to imagine sitting outside sipping a glass of vino while you flip steaks and make baked potatoes for your guests, all while lounging underneath patio heaters when the night gets cold. Whether you are dreaming of a luxury experience, built in BBQ, or wood-fired ovens and meat smokers, there is something for everyone that is sure to fulfill the need for extended living space and communal gatherings. Creating your own outdoor living space is easier than you think. Here are a few quick tips to get you started on creating that perfect outdoor entertaining space.
How To Design The Best Outdoor Kitchen
1. Create a shaded area for hot summer months. Consider building a pergola or adding patio umbrellas, to keep you shaded from the summer heatwaves.
2. Such as with Alberta spring, summer and fall, many find themselves yearning for extra warmth once evening approaches. You can ditch your wool ponchos when you incorporate gas fuelled patio heaters and fire pits into your outdoor area. Always Plumbing & Heating can install your gas lines for you safely and efficiently to help you achieve the level of comfort that you desire in your outdoor space.
3. Plan your layout appropriately. An L-shaped outdoor kitchen is a common style used to help define your living space and set it apart from the rest of your yard. Take actual measurements of your outdoor space to make sure you have room to fit your dream.
4. Remember to think about how you want your appliances placed. Your mini fridge should not be next to your grill. Try to create separate cool and hot zones.
5. Consider outdoor plumbing by having a sink installed in your kitchen. Having running water at your disposal is a must in an outdoor kitchen. It makes cleanup simple as well as provides a sanitary food preparation area.
6. Think about what appliances you want to include. A fridge is a wonderful addition to an outdoor living space for cold beverages, snack items, and condiments. This also prevents you from having to run in and out of your house.
7. For your built-in BBQ, consider a gas grill to avoid constantly replacing propane tanks. This will save you time and money plus prevent you from running out of fuel when cooking those delicious backyard meals.
8. And of course, you need an outdoor fire pit for making s'mores! Instead of having to buy wood and clean up ashes, you may consider a gas fire pit which comes in many beautiful designs from rustic to modern depending on your taste.
Gas lines are not a task that should be done by an uncertified contractor. Our skilled technicians will take the worry out of your hands by professionally installing your plumbing lines, gas lines, sinks, and faucets. We will ensure that your gas lines meet current codes and that permits are pulled so there are no delays in utilizing your space this summer. When you are ready to build your backyard paradise, contact Always Plumbing & Heating for assistance. You will be creating memories before you know it!
Contact Us